If you're anything like me, there is no such thing as too many cookies, or in the case of this Cast Iron Skillet Cookie, a cookie that is too big!!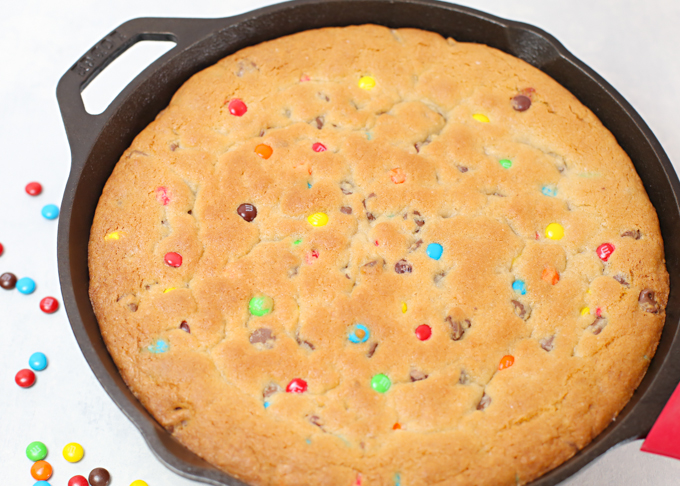 This, my friends, is an entire batch of chocolate chip cookies! One big fat deep dish chocolate chip cookie! I decided to top my Cast Iron Skillet Cookie with a handful of mini M&M's because…..why not? Who wouldn't want some candy coated M&M's along with lots and lots of chocolate chips!!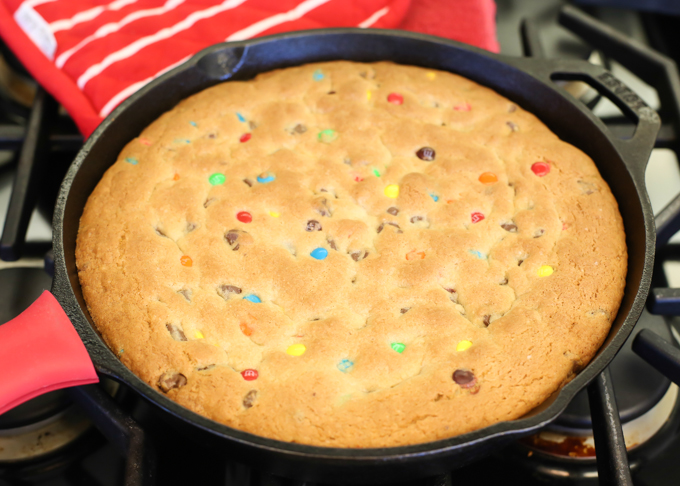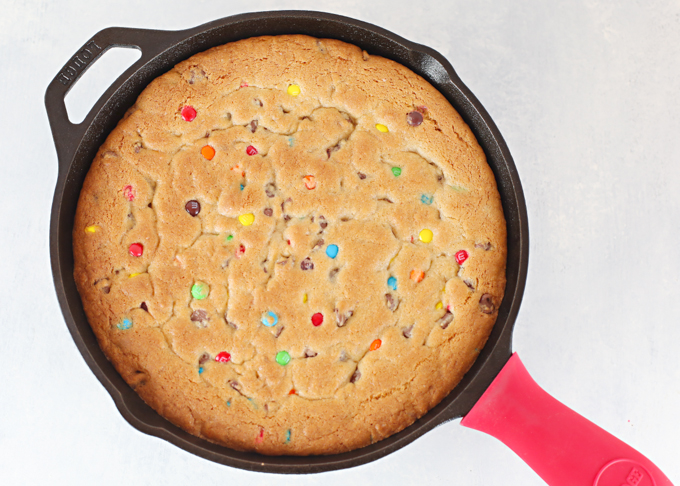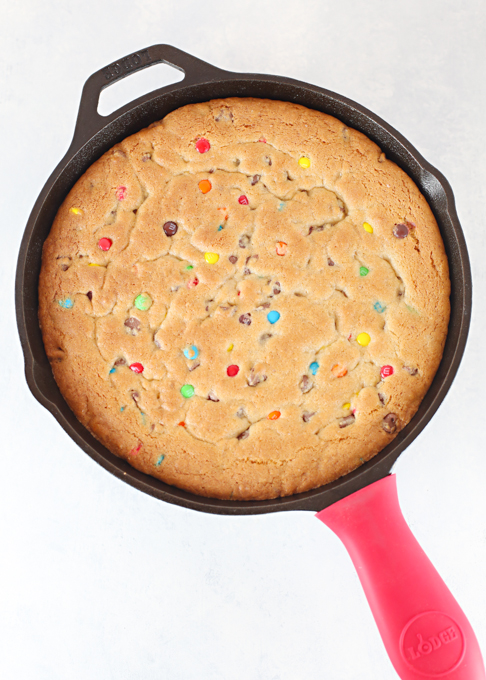 Sadly, I didn't get the picture of how this giant Cast Iron Cookie should be served. I didn't have anyone at home to help me dig in, but, imagine…
Take this warm baked cookie from the oven…..
now, top it with a couple of big scoops of vanilla ice cream….
then, set it in the middle of the dining table.
Now, hand everyone a fork and demand them to DIG IN!!
How fun would that be!!! I'm telling you, you'll get major Mom points!! MAJOR POINTS!!
**remember that cast iron pans stay quite hot, so remind everyone to use caution when digging in (place a couple of dishtowels or pot holders for holding onto the pan if needed).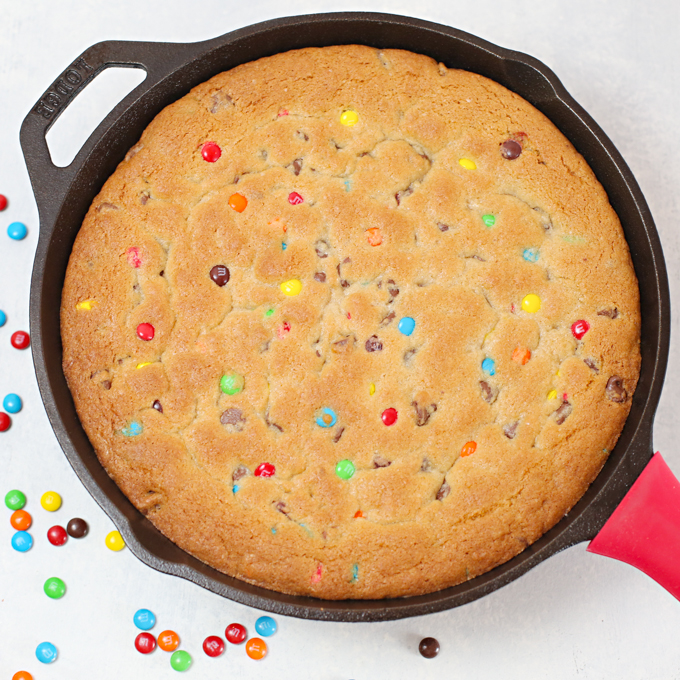 I've linked up this Cast Iron Skillet Cookie over at Southern Plate's Meal Plan Monday!! Make sure and check it out!
I know you want to share this giant cookie, so how about sharing on your FB page or Pinning 🙂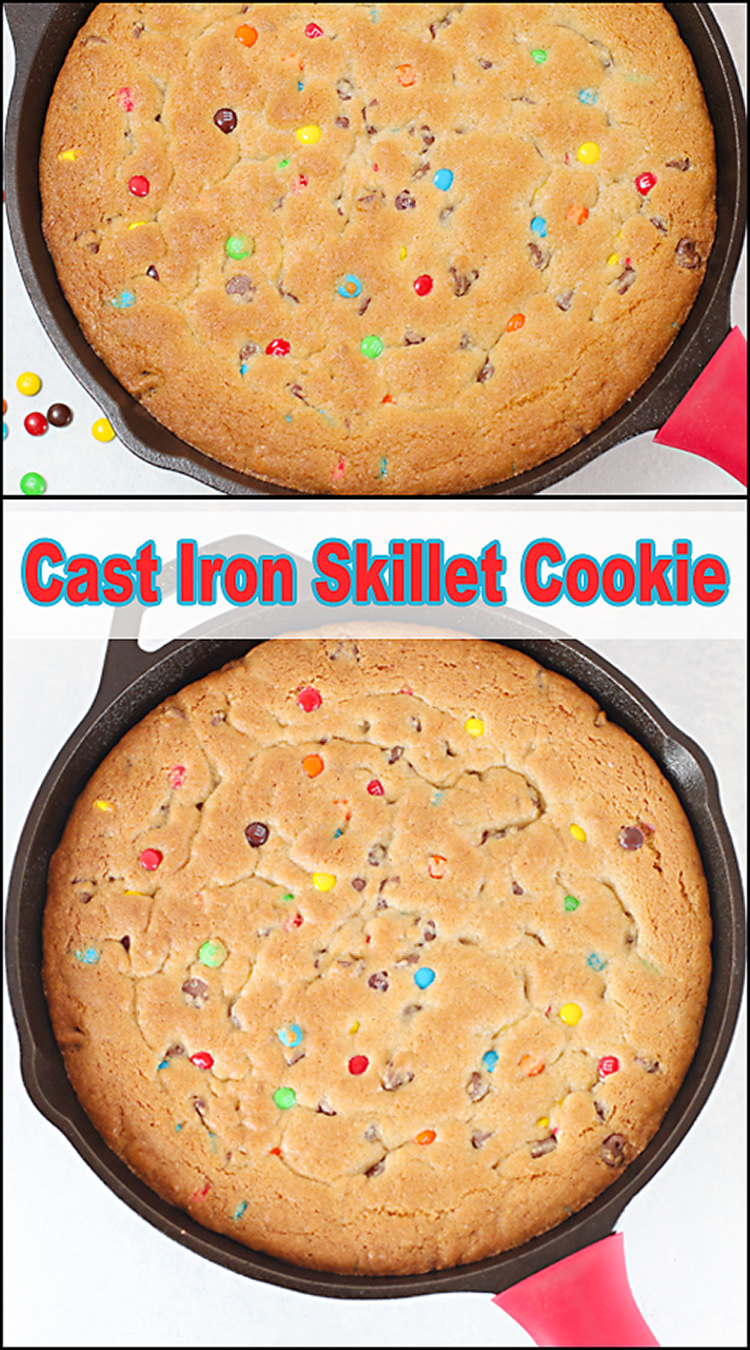 Cast Iron Skillet Cookie
Ingredients
2 1/4

cups

all-purpose flour

1

teaspoon

baking soda

1

teaspoon

salt

1

cup

2 sticks butter, softened

3/4

cup

granulated sugar

3/4

cup

packed brown sugar

1

teaspoon

vanilla extract

2

large eggs

2

cups

12-oz. pkg. Nestle Semi-Sweet Chocolate Chips

*optional

top with 1/2-3/4 cup mini M&M's.
Instructions
Preheat oven to 375° F.

Prepare pan by lining the bottom with a piece of parchment paper and lightly spraying with baking cookie spray.

Combine flour, baking soda and salt in small bowl.

Using electric mixer, cream together butter, granulated sugar, brown sugar and vanilla extract.

Add eggs, one at a time, beating well after each addition.

Gradually beat in flour mixture.

Slowly (or by hand) stir in chocolate chips.

Spread dough into prepared cast iron skillet.

*optional, top with mini M&M's.

Bake at 375* for approx. 20 minutes (until lightly golden brown and set in middle).

Serve from pan topped with vanilla ice cream!
Cookies, cookies, cookies……
Pumpkin Spice Cookies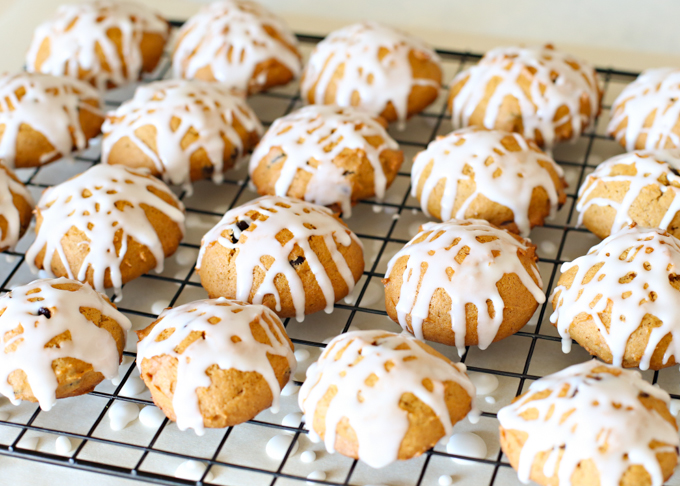 Espresso Chocolate Chip Cookies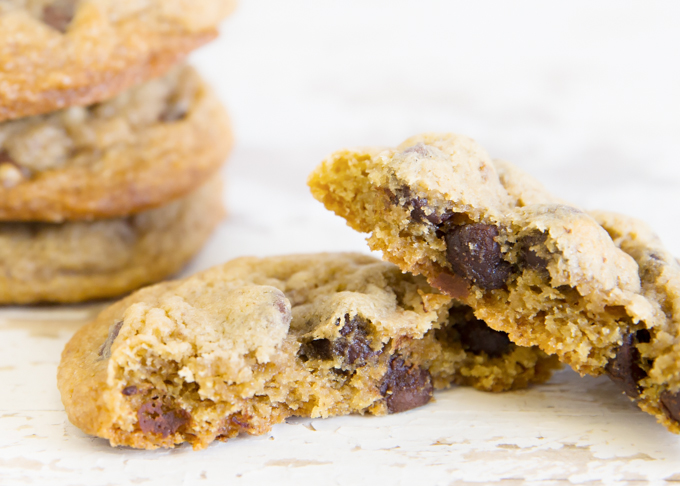 Potato Chip Cookies