If you're familiar with In-N-Out, you know how good "animal" style is. Yummy sauce and grilled onions top either your burger or fries, and it's pretty dang amazing! Ok, it's really amazing! And delicious! And messy!! Being that we don't have an In-N-Out, and sometimes I just need to top something with grilled onions, I decided on this Animal Style Grilled Cheese.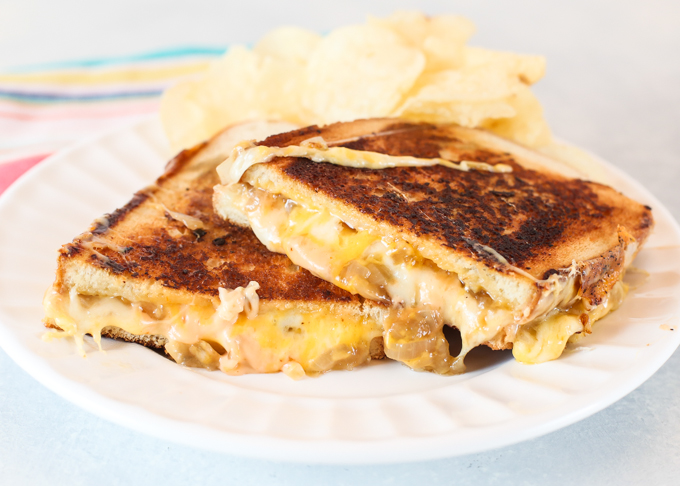 I'd love to take full credit for this delicious idea, but while browsing Pinterest, a similar sandwich popped up in my feed. A huge thanks to House of Yumm for the sandwich inspiration. The sauce was linked to another blogger who linked to another blogger……..I'd love to give credit, but I'm not sure where the copycat sauce recipe originated. All I know is I love grilled onions! I piled them high on my DaBomb Burger and even teach you how to make them HERE.
My stove top cast iron grill was perfect for making these sandwiches. It easily held the large slices of sourdough bread.
I started by making my grilled onions. They take a bit of time, but are well worth it. I cook them for a minimum of 30 minutes, and often as long as an hour. That's right! An hour for perfectly slowed cooked grilled (or caramelized) onions. Please don't try to speed up the cooking time. I know what you're thinking….really, all I want is a grilled cheese. Delicious onions take time, but the good news is you can make them earlier in the day, then reheat them in time to make yourself a quick delicious Animal Style Grilled Cheese. And, while you're at it, make up extra, to enjoy during the week. Animal Style Grilled Chicken would make a great dinner!
When the onions are cooking, make up a batch of sauce. It's quick and easy!
Once the onions and sauce are ready, you can grill your sandwiches. I used three kinds of cheese (american, colby jack, and provolone) and large slices of sourdough bread.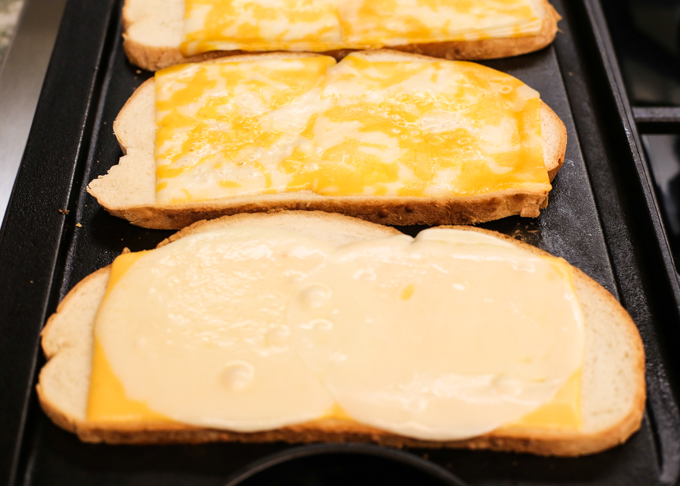 Keep your pan just hot enough to toast the bread, but low enough that the cheese has time to thoroughly melt.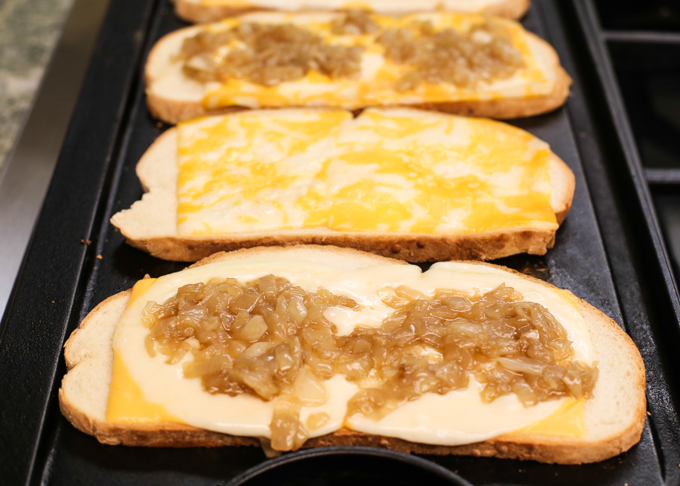 Once the cheese is melted, top with onions and sauce.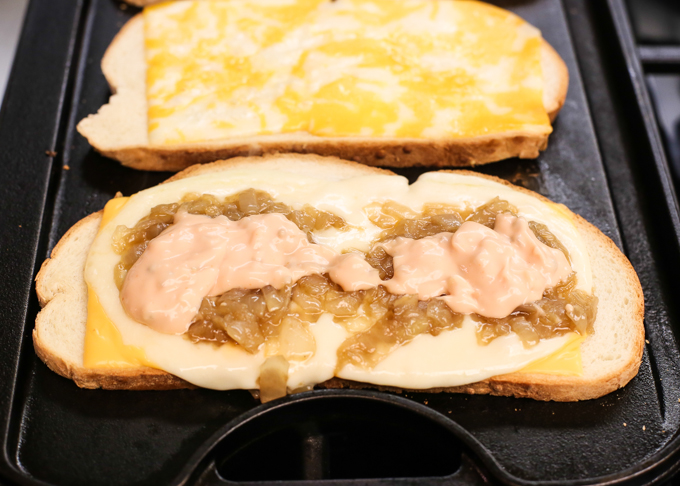 Now put the lid on and the sandwich and finish grilling until the cheese is oozing out.
Remove from heat, slice in half, and enjoy!!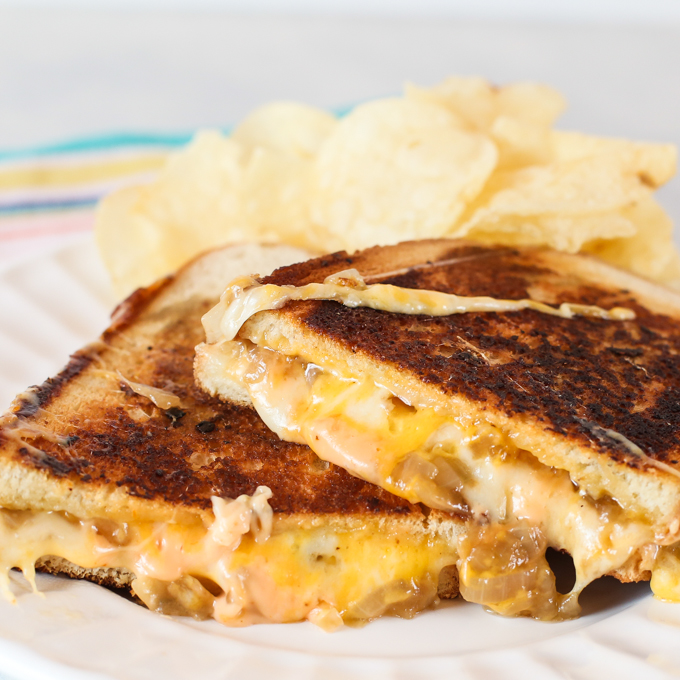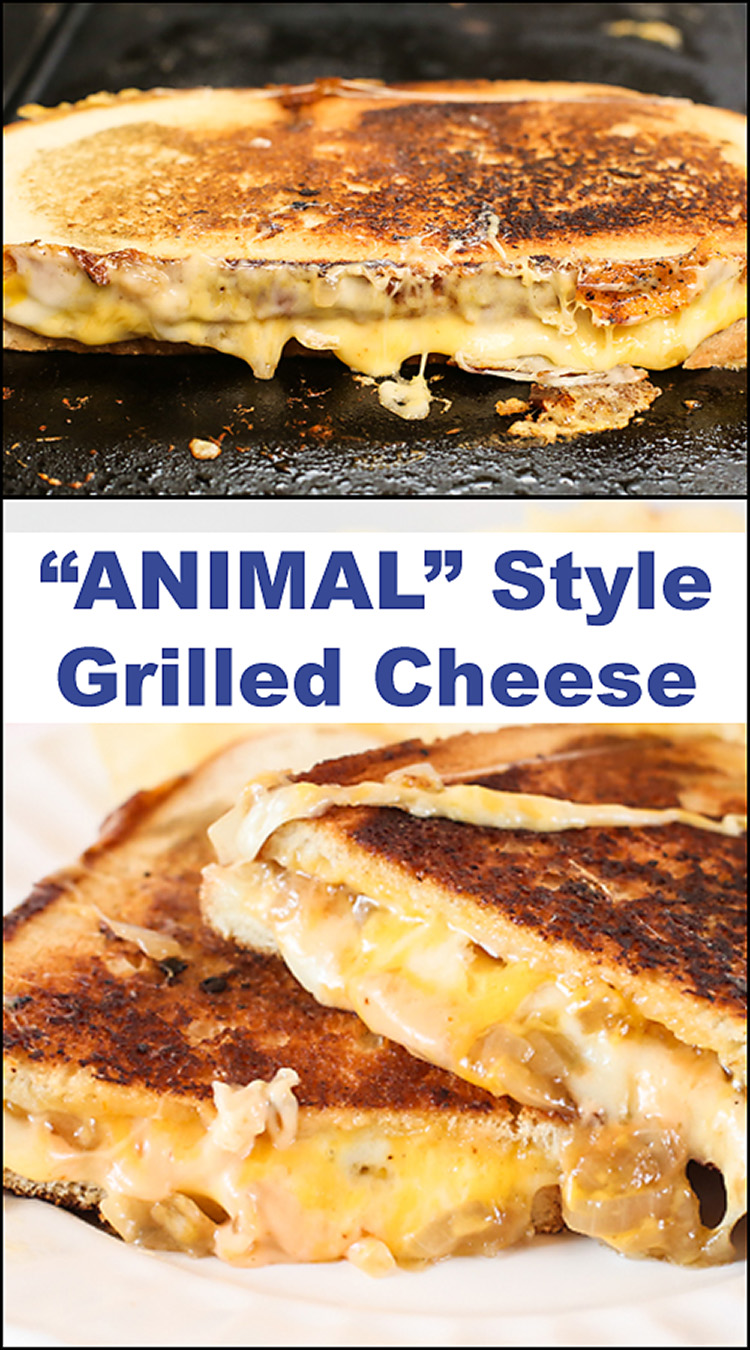 Animal Style Grilled Cheese
Ingredients
Grilled Onions:

1

medium sized yellow onion

diced

2-3

TBSP

butter

2

TBSP

worcestershire sauce

Sauce:

1/2

cup

mayonnaise

2

tablespoons

ketchup

1

tablespoon

white vinegar

2

teaspoons

sugar

2

teaspoons

sweet pickle relish

2

teaspoons

minced onion

Sandwich:

2

slices

of sourdough bread for each sandwich

6

thin slices of cheese per sandwich

I used american, colby jack, and provolone

1

TBSP

butter per sandwich
Instructions
Grilled Onions:

In medium low skillet, melt butter.

Add onions and cook, stirring regularly until onions are tender and golden, about 30 minutes.

Stir in worcestershire sauce and cook for another 10-15 minutes.

Sauce:

Combine all sauce ingredients in small bowl. Whisk together until thoroughly combined.

Sandwich:

Heat cast iron grill pan over medium heat.

Butter one side of each slice of bread.

Place bread butter side down on hot grill.

Place cheese on bread and grill until melted.

Top with grilled onions and sauce.

Top with second piece of grilled cheesy bread and continue to grill over low heat until cheese is fully melted.

Enjoy!
You'll want to grab plenty of napkins! It's messy, but worth every bite!
If you enjoyed this Animal Style Grilled Cheese, I think you'll also enjoy:
DaBomb Burger w/Balsamic Onions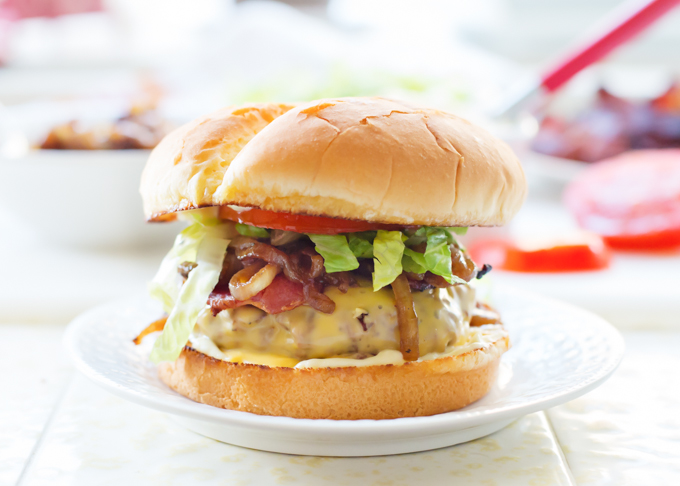 Or this Chicken Caesar Sandwich