I was honored to be able to host this Make Your Own Bouquet Bridal Shower Brunch for my niece to be! The Make Your Own Bouquet set up was new to me (been to, but not hosted one), and it was such a fun addition to a brunch shower! Everyone loved making their own bouquets which were also their party favors!! The centerpieces on each table were made the evening before by my sister and I. I never knew she had floral skills, but she's a natural at flower arranging!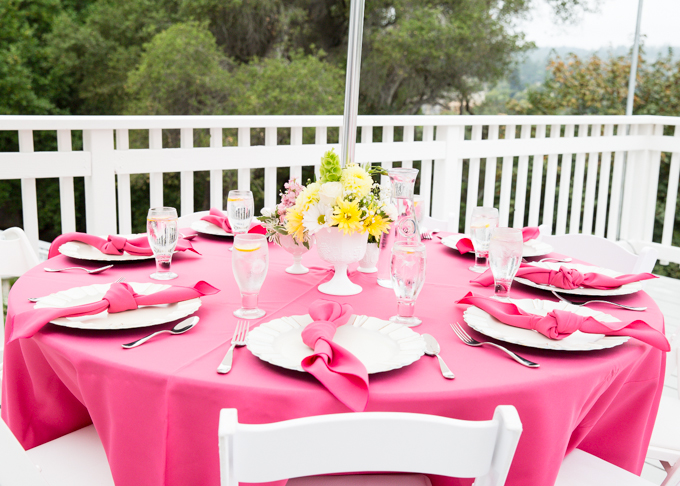 This beautiful bride-to-be is marrying my nephew next month. I'd say he's a lucky man! Unlike most showers that I host, I didn't know many of the guests, but loved getting a chance to visit with her family and friends and can't wait to see them all next month at the wedding! Chelsea is going to be a gorgeous bride!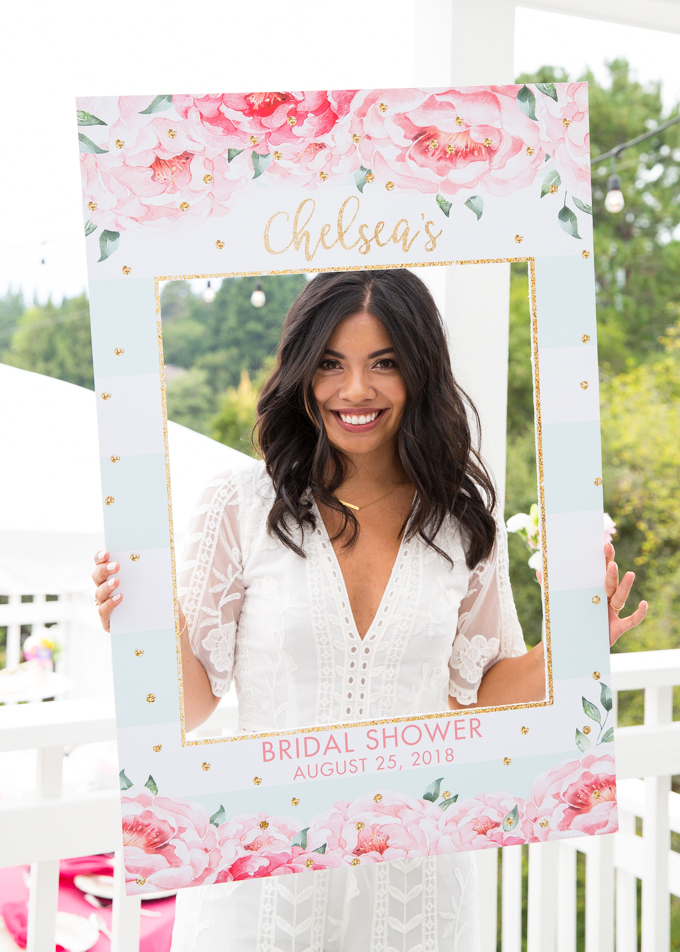 If you've read any of my other hosted event posts, you'll know that from the moment guests arrive, I like to "welcome" them to my home. I start at the porch with a welcome sign and fresh flowers! As soon as you pull up, you immediately know that you're at the right house.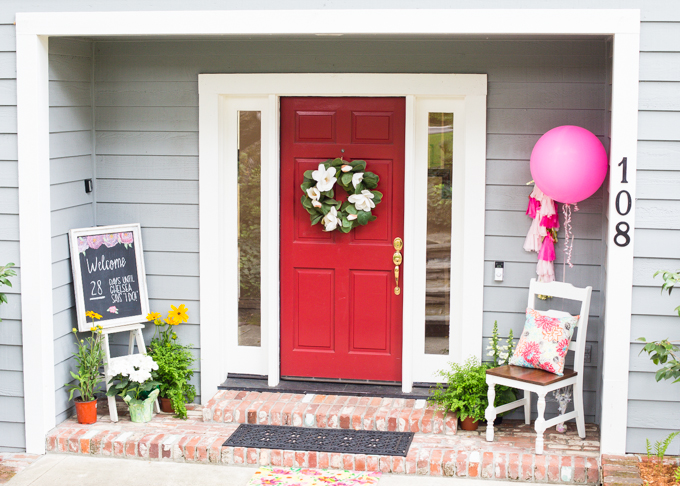 Upon entry, I have a table which included the "Guess the Kisses" game, along with another welcome sign, and framed photos of the bride & groom (to-be).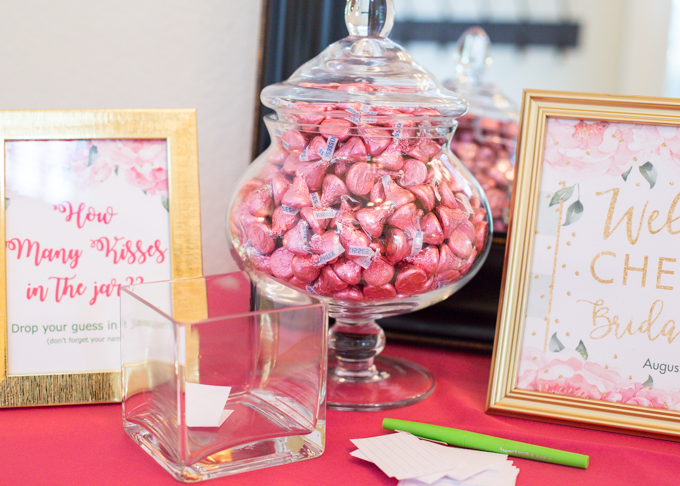 Next up is to choose your beverage of choice. Today's brunch included either coffee/tea or a mimosa (or plain juice if you prefer). Balloon arches are my new decoration of choice. Using balloon tape, they are very easy to make and are certainly a statement decor piece!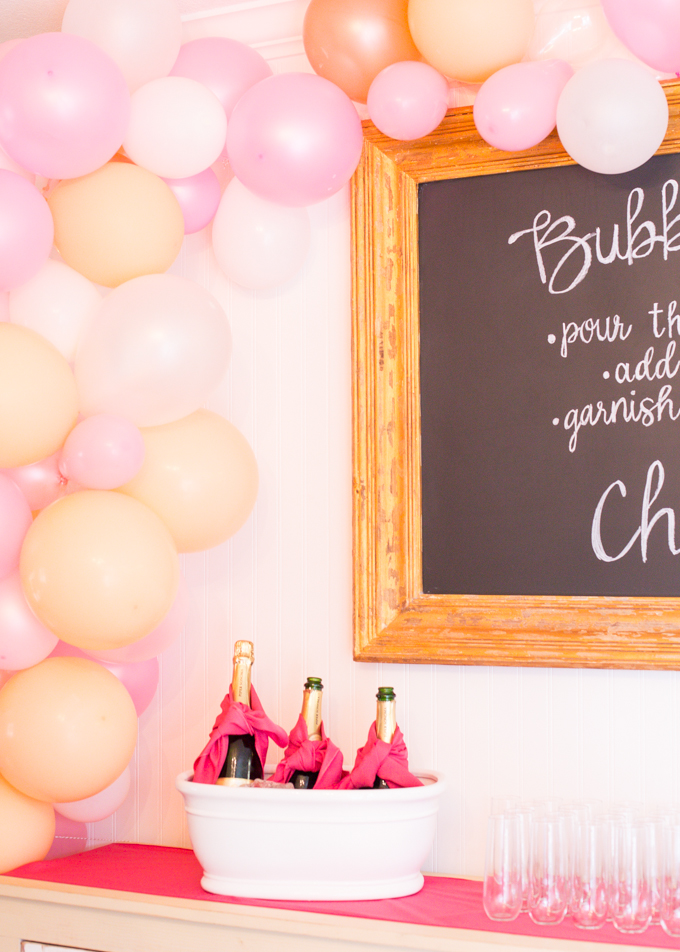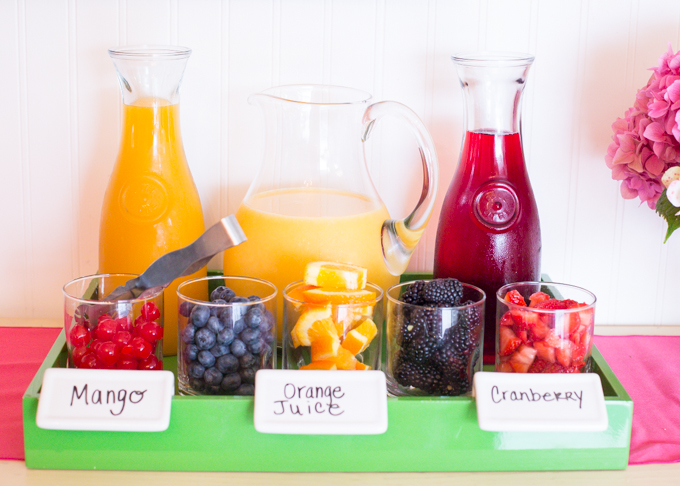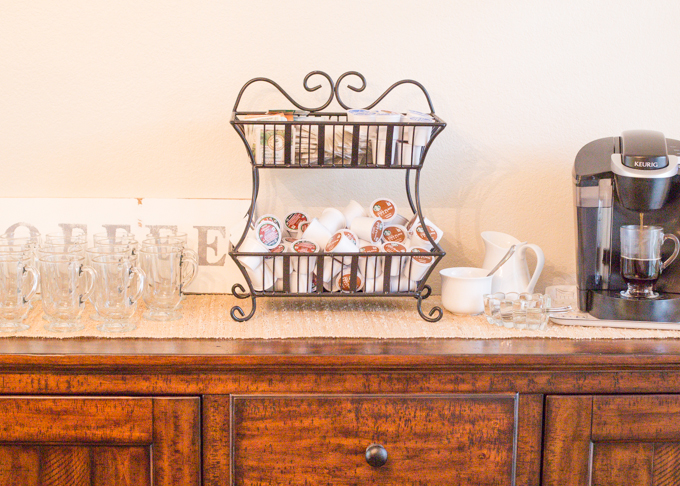 Once guests stepped outside (through french doors off my kitchen), they were able to start on their Make Your Own Flower Bouquets! SO MUCH FUN!! I flower shopped at a local wholesale flower shop a couple of days before the shower, choosing all the flowers I could find in the shower colors! Hello lots of pinks, yellows, whites, and greenery!
I set out everything the ladies would need to make their own bouquet:
fresh flowers
cutters
vases
ribbons (I cut them in yard lengths and filled a tin bucket with an assortment)
tags
I even printed up an "instruction" sign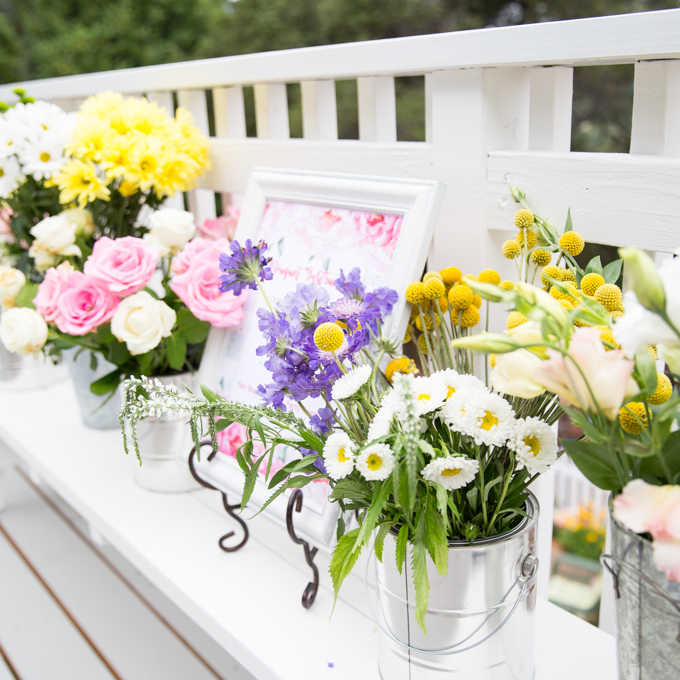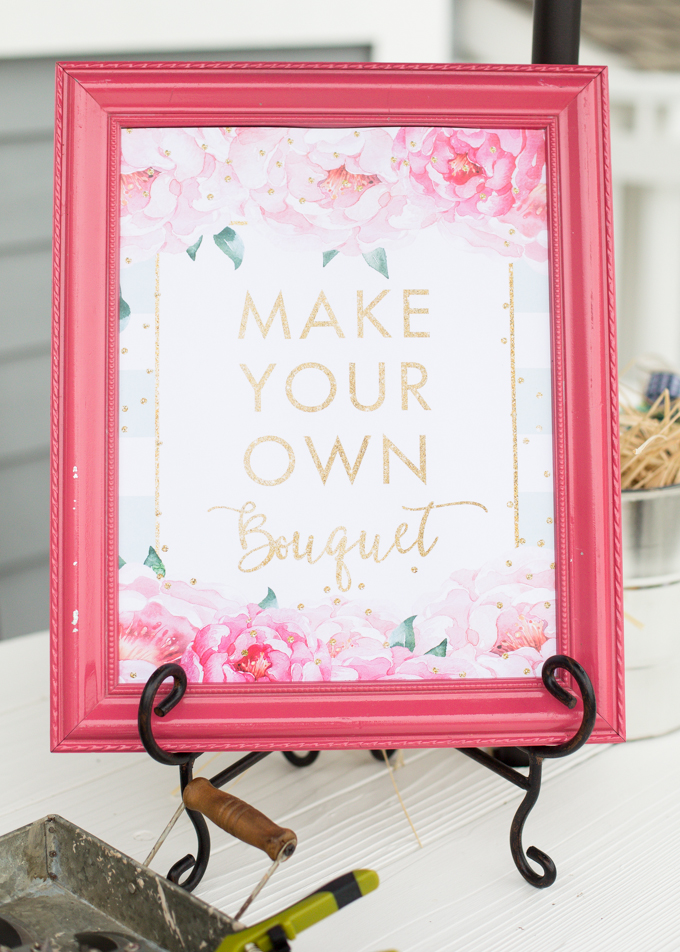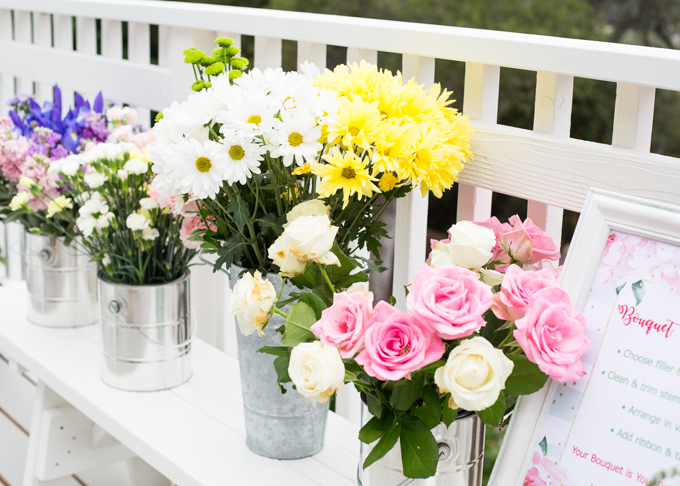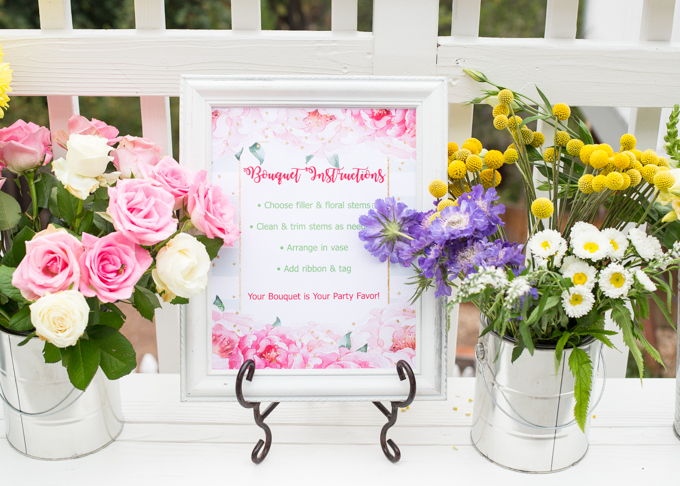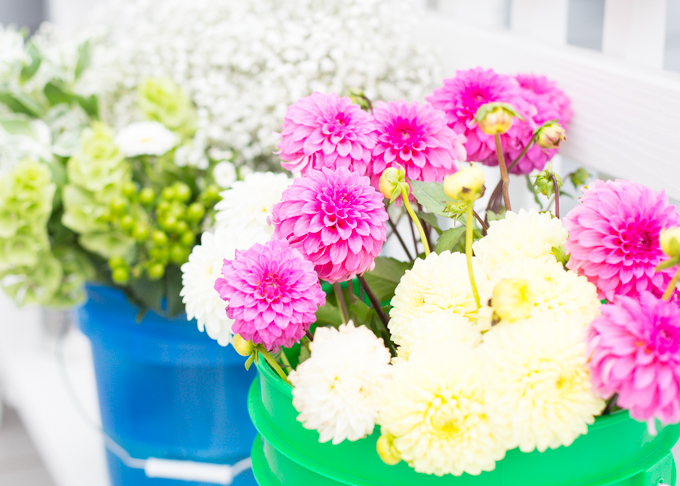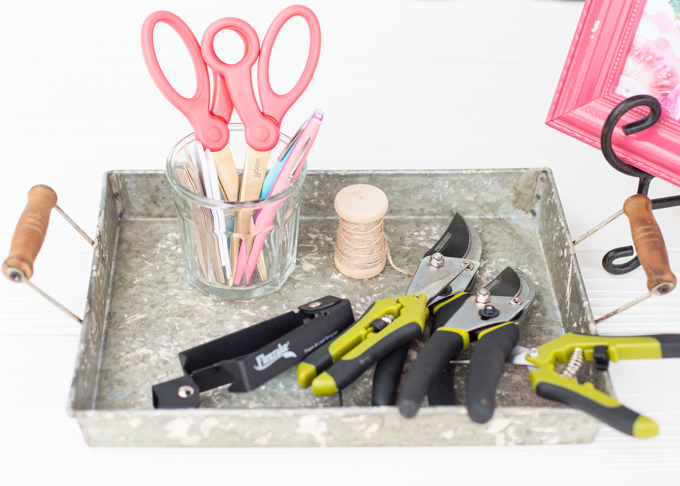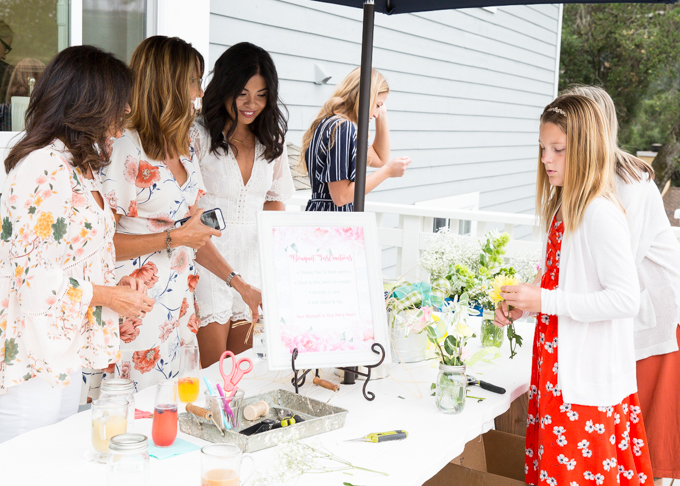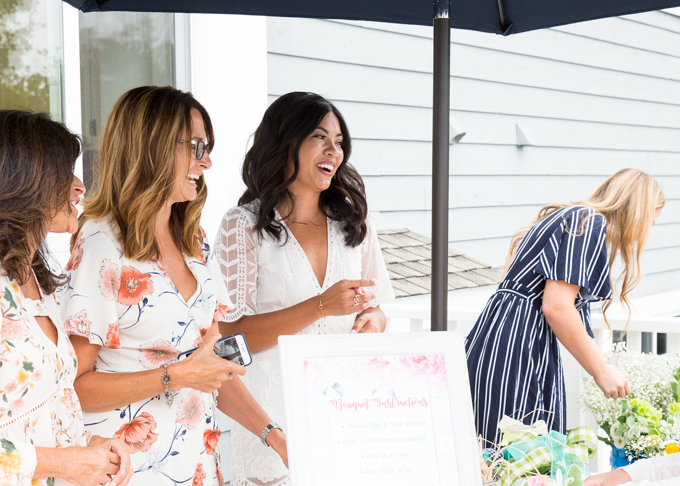 Check out the gorgeous bouquets that everyone made! And this only about half of the beautiful bouquets.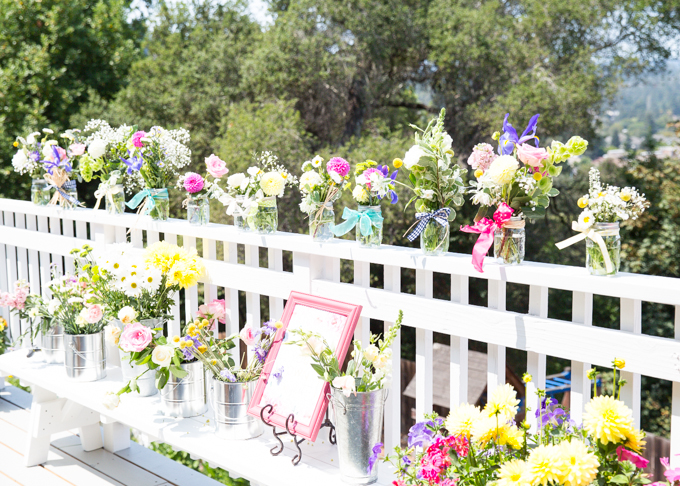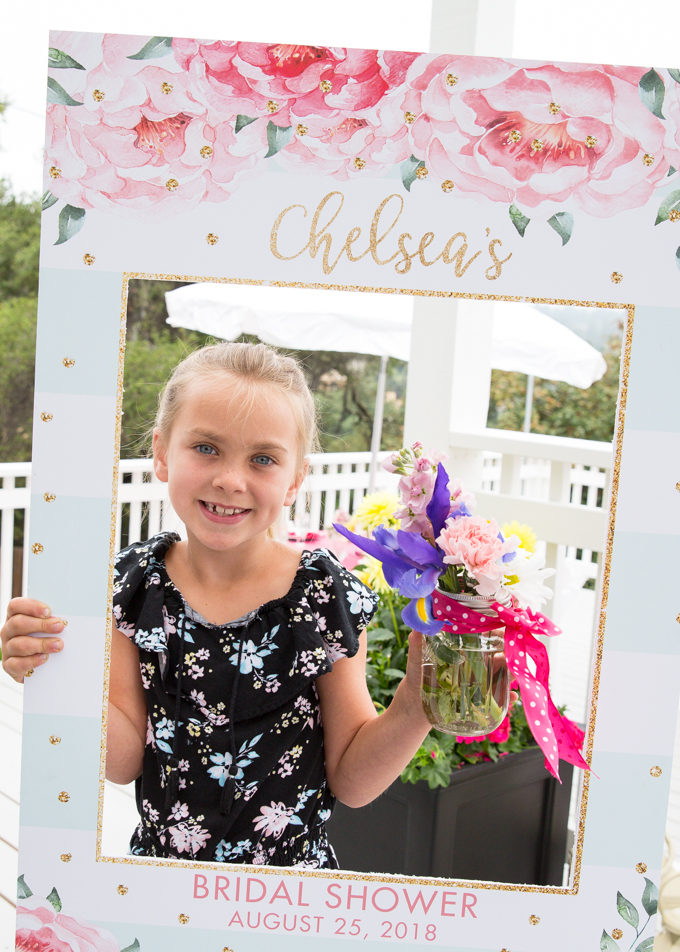 This is the view right as you step onto the deck from the french doors. I love the way the hot pink popped against the green trees. There was a light fog when guests arrived, but it soon cleared and made for a beautiful warm sunny day.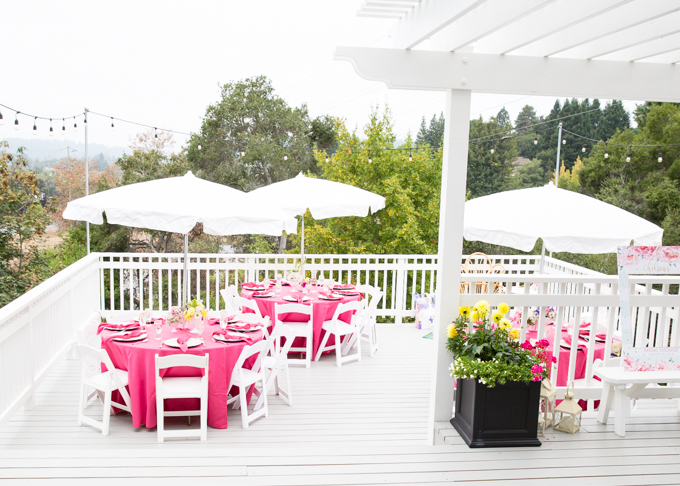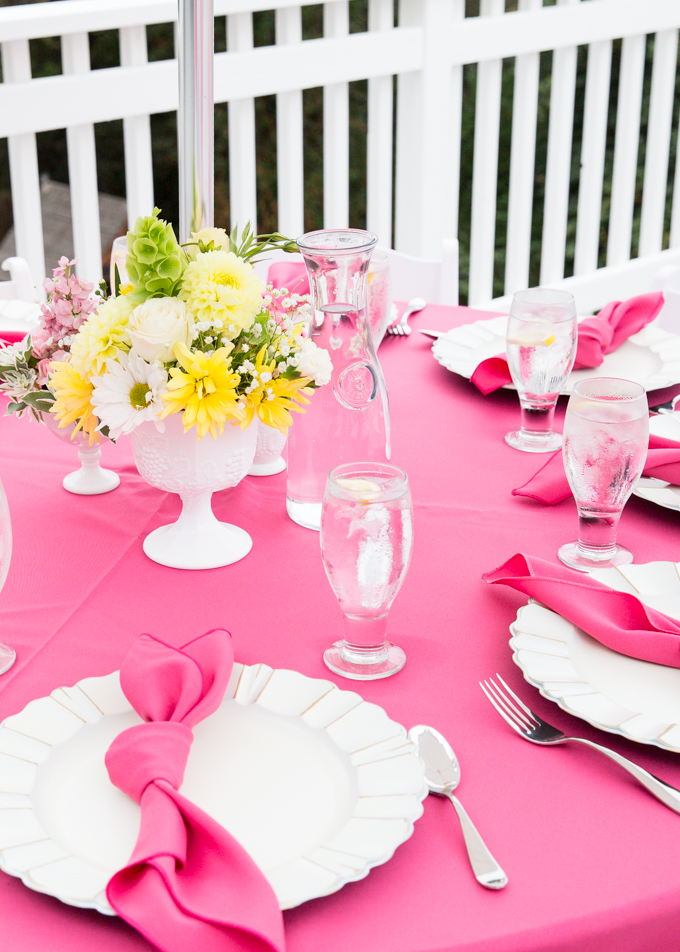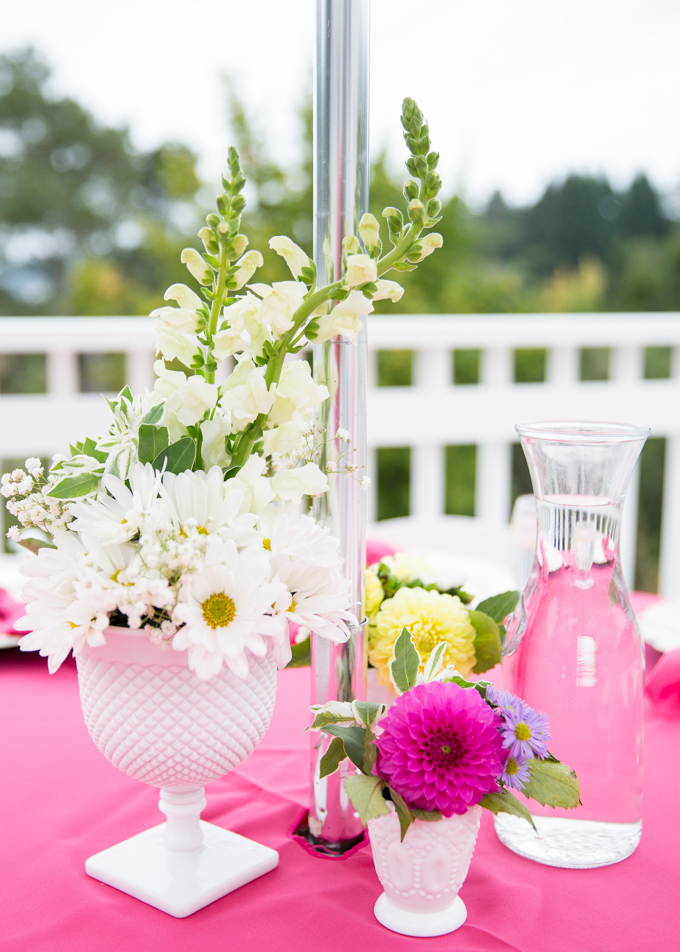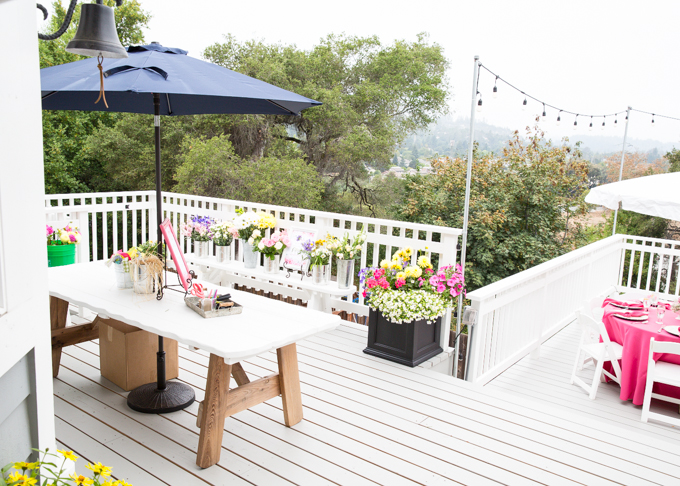 Right before the guests were instructed to refill their beverages and find a seat, we set fruit/yogurt/granola parfaits at each place setting. Once everyone was seated, I welcomed the guests and we played a "The Price is Right" game, where guests had to correctly guess the prices of household cleaning and kitchen products. After the game, we headed into the dining room to serve up some delicious brunch food! We had two kinds of quiche, bacon, sausage, blueberry french toast casserole, champagne orange salad, and a bagel bar. You can find the recipe for the Blueberry French Toast Casserole HERE. I should have mentioned to the guests to save room for dessert!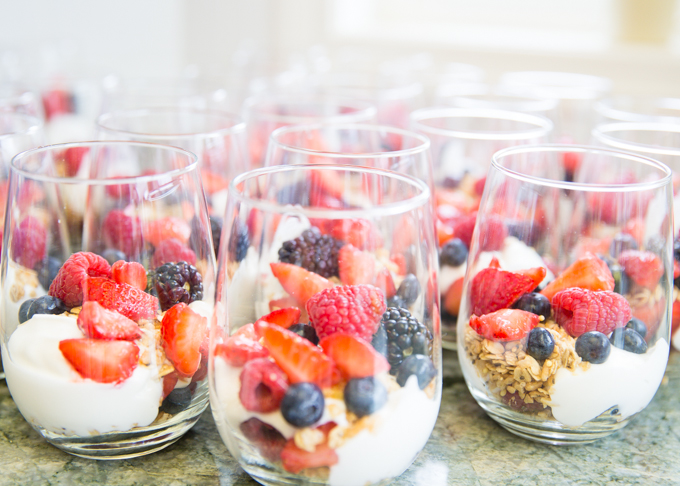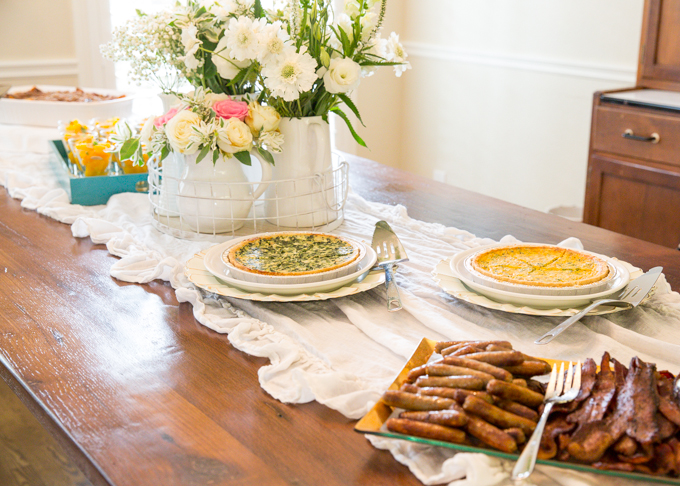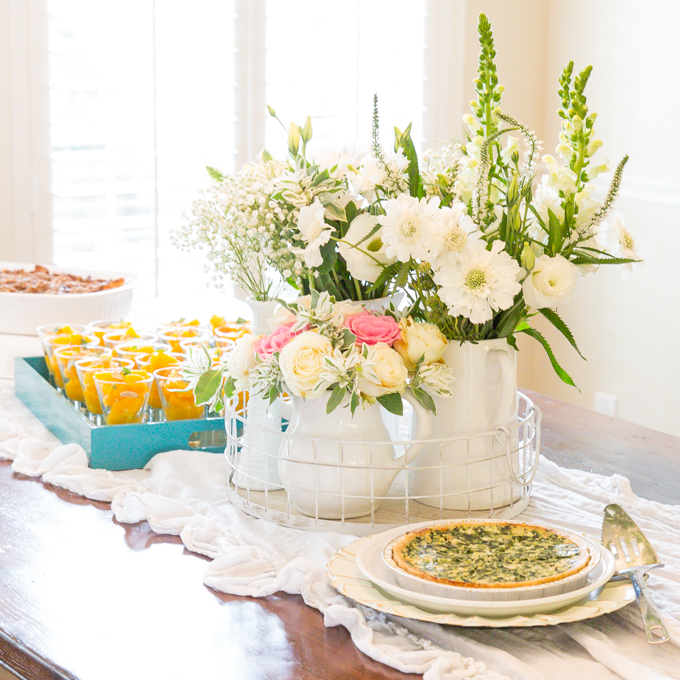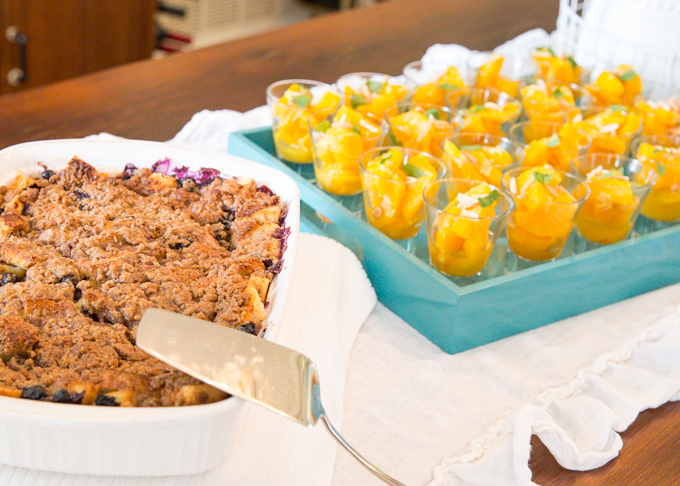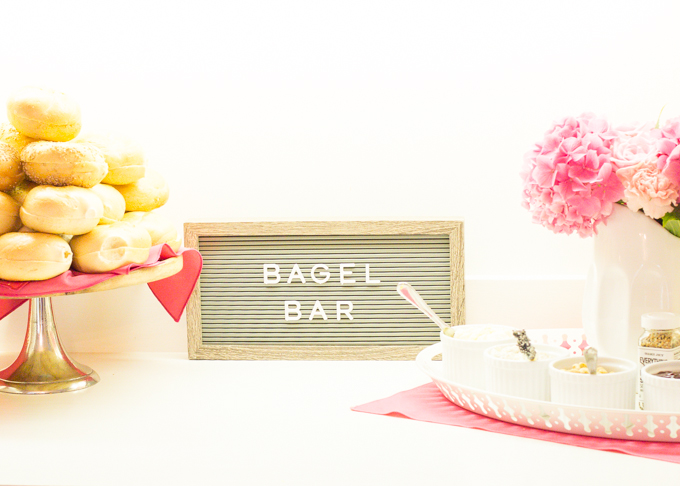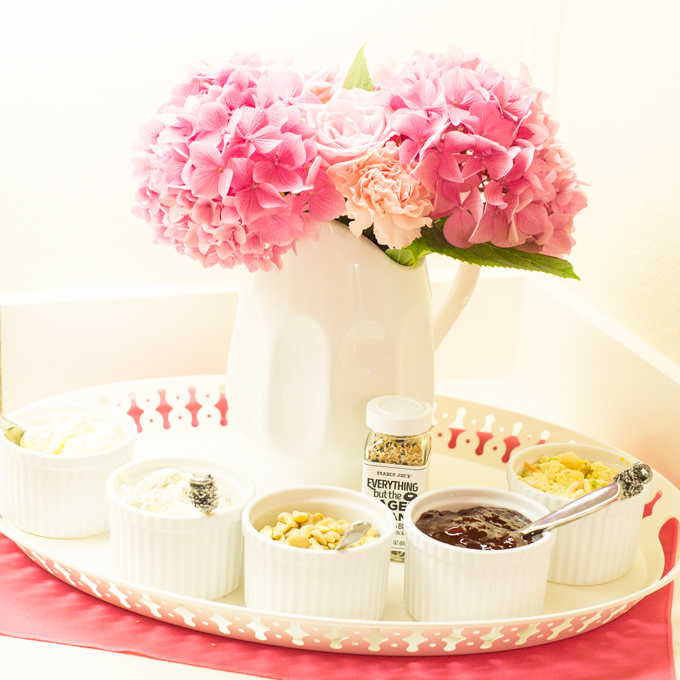 With full tummies, it was time for another game, then Chelsea opened her gifts. During this time, we passed these amazing Tiramisu Chocolate Cups. A-M-A-Z-I-N-G!! There was also a Berry Chantilly Chiffon Cake and some mini tarts. All desserts were from Whole Foods. As I have mentioned before, take short cuts where you can. Sometimes semi-homemade is the way to go!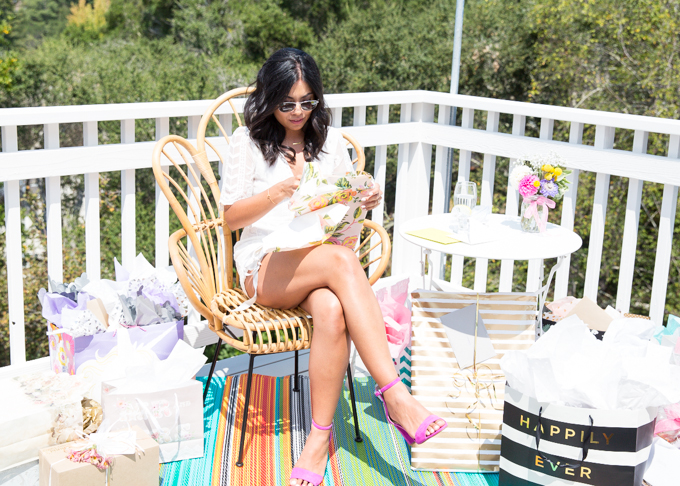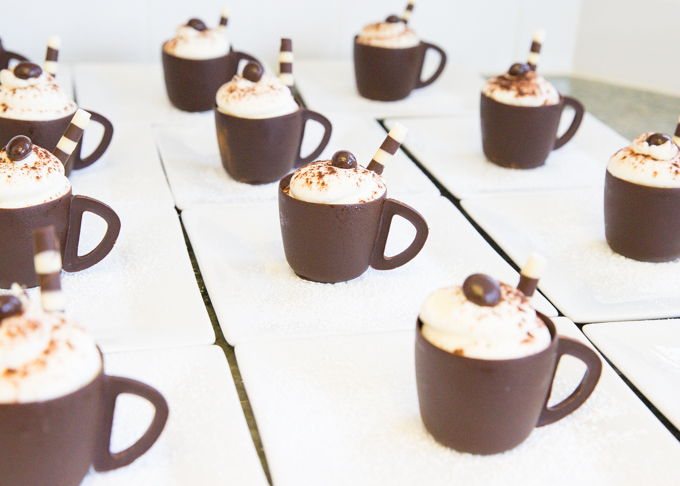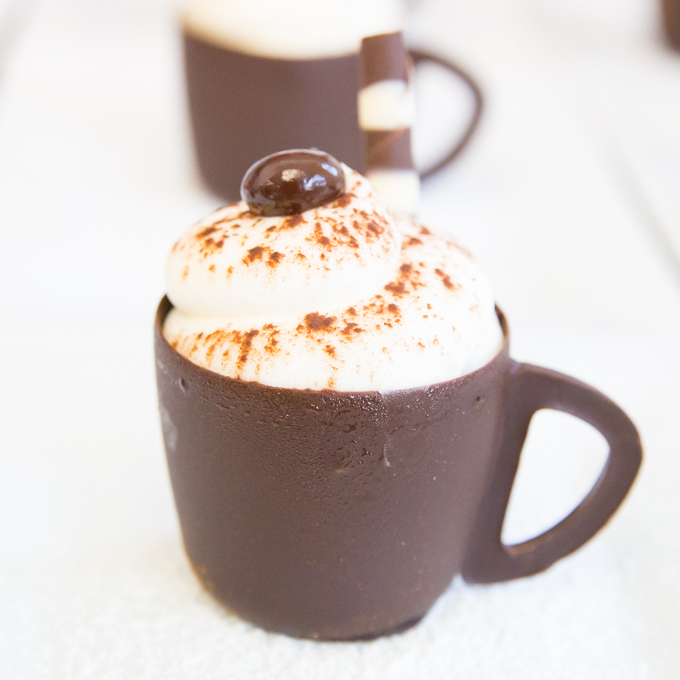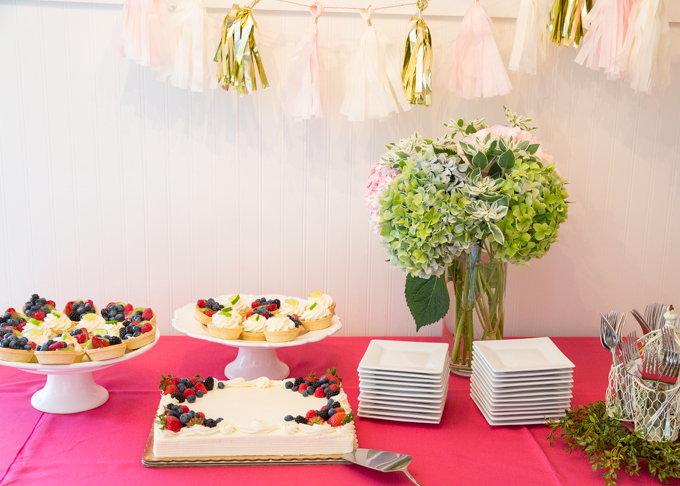 And of course, we had to get a few photos. First is Chelsea with her mom (on the right) and my sister, the groom's mom (on the left). Next up is Chelsea with her Maid-of-Honor. And, lastly, one of the myself with my future niece).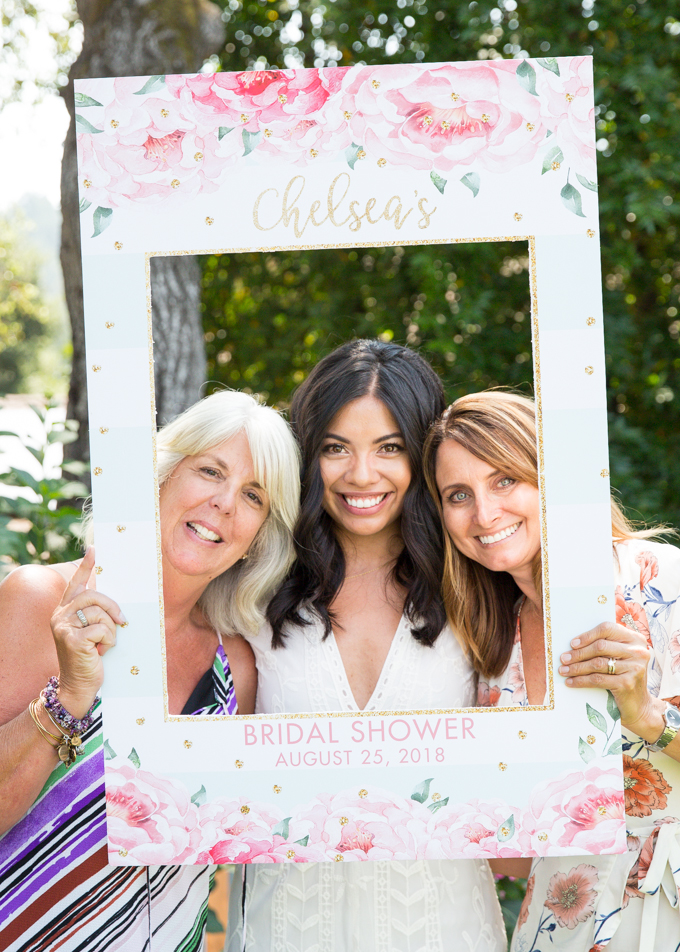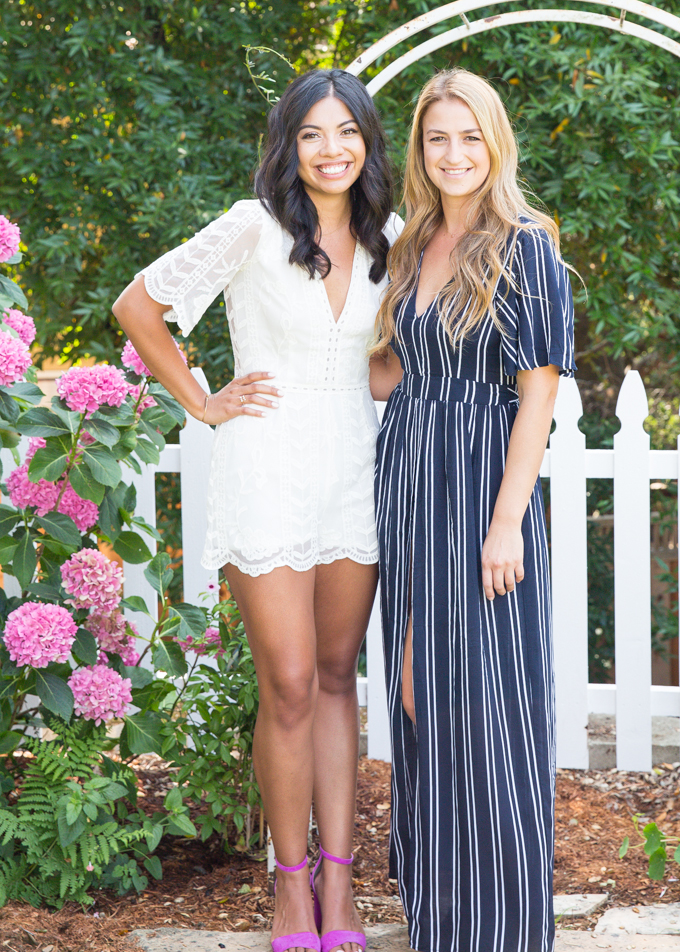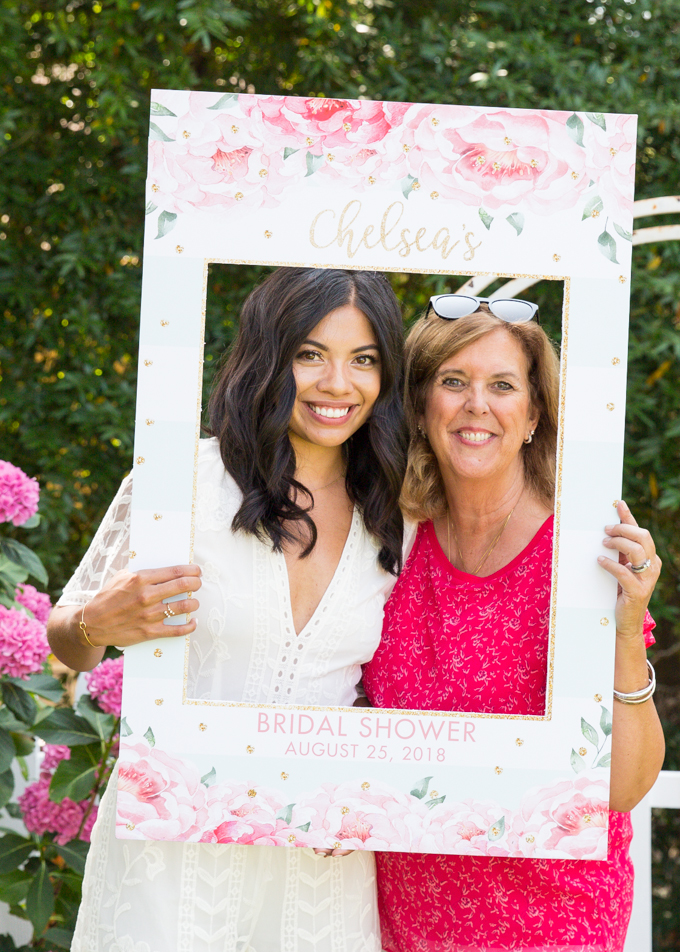 And, please don't forget to PIN to your favorite Pinterest Board!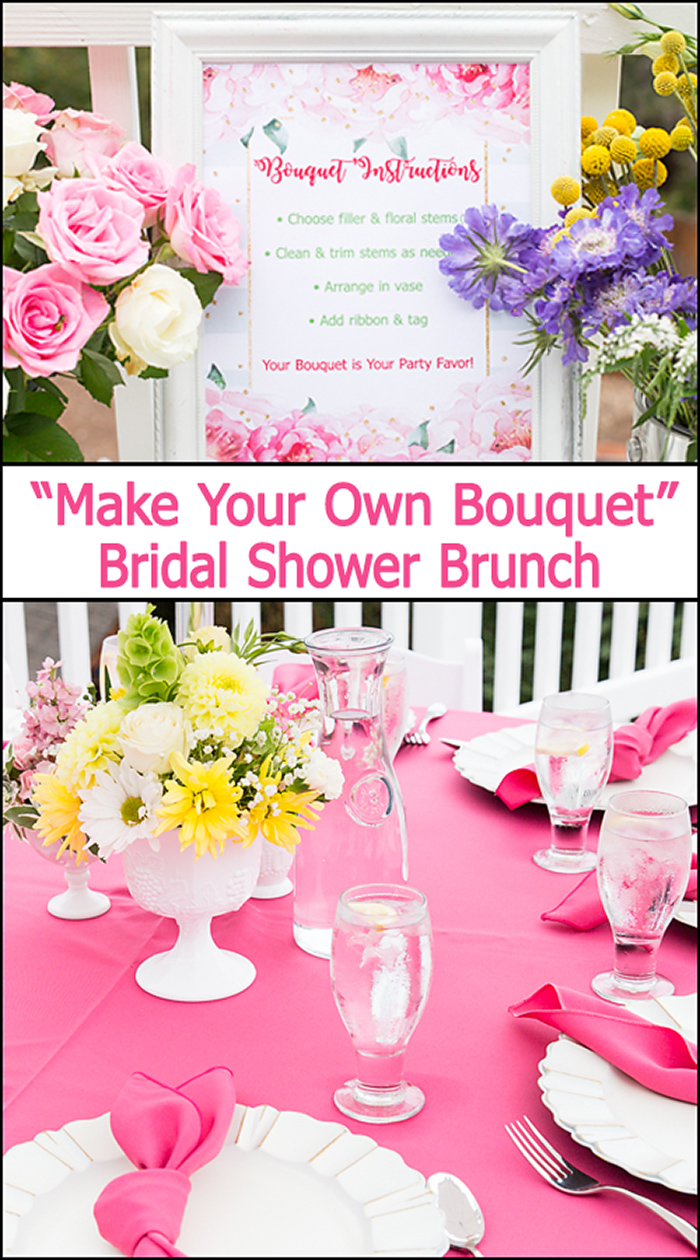 Looking for more Bridal Shower inspiration??
How to Host a Fiesta Bridal Shower
Bubbly, Brunch, and Big Hats Bridal Shower
Or, maybe some Simple Party Planning Tips.