I saw this Blueberry French Toast Casserole while scrolling my Instagram and knew I had to make it. Fortunately for me, we had some family in town and a text from a sister in law that went something like this, "I want to come see your kids (she was really referring to the grand babies), can we come over on Sat. morning? It doesn't have to be for breakfast, we would love to see everyone. But I have fruit, if you want to do breakfast."  YES, thank you for the perfect excuse to make the Blueberry French Toast Casserole. And thank you to Sally's Baking Addition for the awesome recipe. Sally's blog is seriously amazing! I think I want to be her when I grow up (the fact I'm old enough to be her mom is totally irrelevant).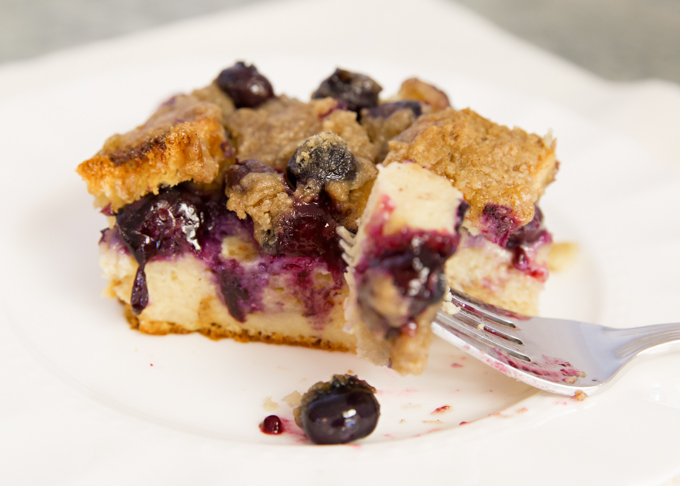 We had 9 adults and two kids, and devoured everything I set out. A dozen and a half scramble eggs, two packages of sausage links, one pound of bacon, a fruit platter, yogurt, granola, orange juice, coffee, mixed fruit smoothie and a big casserole of this scrumptiousness!!
I can't wait to host another brunch to serve this again!! I didn't even set out syrup or powdered sugar with it. It didn't need it. Plain was perfect!
I wanted to use Challah bread, but the store was out, so I settled for a simple sliced buttermilk bread. I don't think it really matters, once you soak it in a sweet custard, load it full of large ripe fresh blueberries, and top it with a cinnamon streusel topping.
Who doesn't love the ease of preparing an overnight breakfast casserole? Simply layer the bread and blueberries, top with a sweet custard, and refrigerate. The next morning put together a quick streusel topping and bake.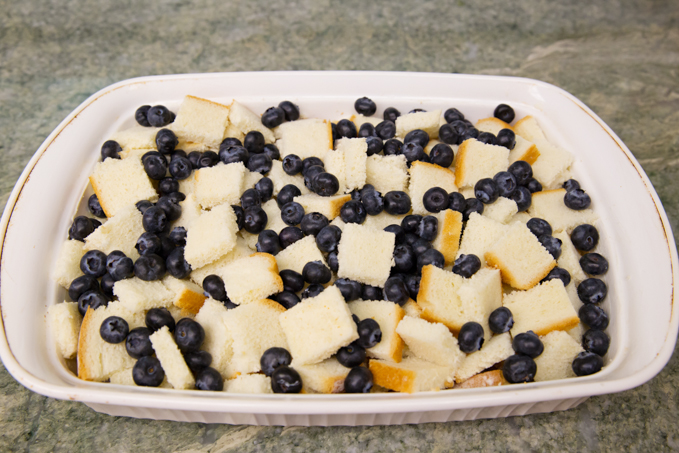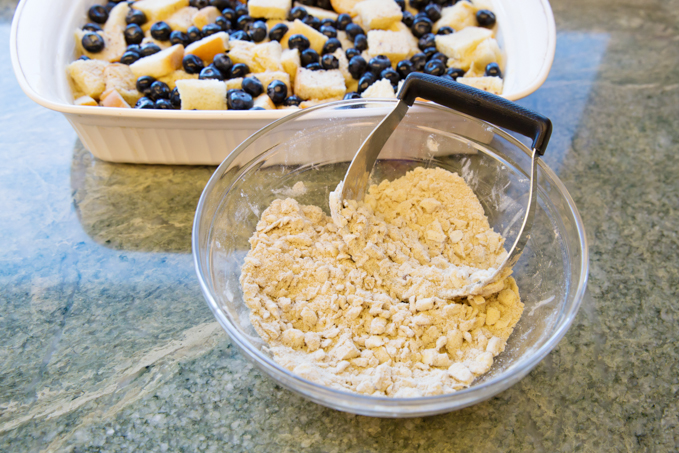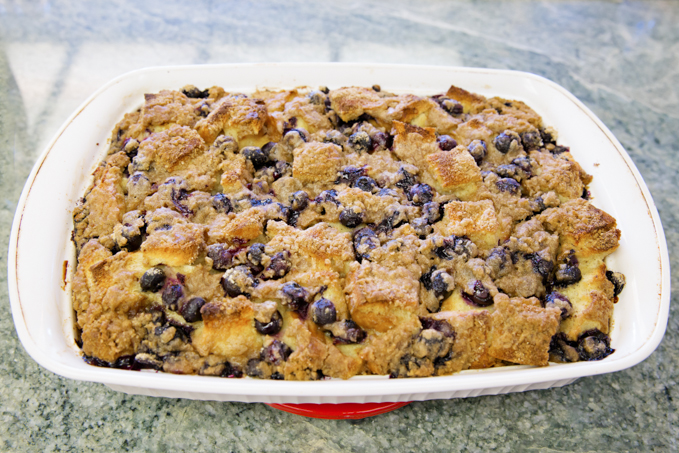 You need to excuse these pictures, I had ten hungry people waiting to eat. There was no time to set it up pretty with props. Oh well, who needs fancy pictures when you can take a bite of this instead?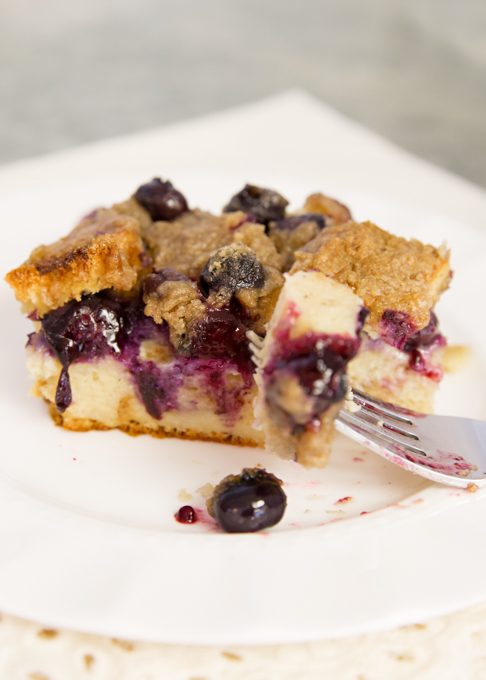 Blueberry French Toast Casserole
Ingredients
1

loaf challah bread

french bread, or other white bread

1

cup

fresh blueberries

8

large eggs

2 1/4

cups

whole milk

1/2

teaspoon

ground cinnamon

1/2-3/4

cup

packed light brown sugar

1

TBSP

vanilla extract

Streusel Topping:

1/3

cup

packed light brown sugar

1/3

cup

all-purpose flour

1/2

tsp

ground cinnamon

6

TBSP

butter

cold and cubed
Instructions
Butter 9 x 13 baking pan.

Slice bread into cubes.

Top bread cubes with fresh blueberries. Set aside.

For custard:

Whisk together: eggs, milk, cinnamon, brown sugar, and vanilla until well mixed.

Pour custard over bread cubes & blueberries, coating all bread pieces.

Cover with plastic wrap and refrigerate overnight.

To bake:

Preheat oven to 350*

Prepare streusel topping: Mix the brown sugar, flour, and cinnamon together in a medium bowl. Cut in the cubed butter with a pastry blender or two forks. Sprinkle the topping over the soaked bread.

Bake for 45-50 minutes or until golden brown.

Optional toppings: butter, maple syrup, powdered sugar
**If you like this recipe, please feel free to share onto your Facebook page, Pinterest, and don't forget to hit the YUM button!