Don't you just love it when your leftovers taste as good (or better) than the first time around?? I do. And, I love having a use for just a bit of leftover. In this case I was using up a bit of cooked chicken that I took out of the freezer. I made a BBQ pizza, but still had just enough left to make a delicious lunch. I'm sure you're going to get tired of me, but I'm going to preach all day about pre-cooking some chicken and sticking it in the freezer. There are so many uses for it and it will simplify your kitchen life.
In the past, I've always made a curried chicken salad, but I love grapes in my curried salads, and since I had no grapes, I thought I'd keep it basic. But, I didn't want blah, so I spiced it up with a little Sriracha.
My Chicken Salad is very basic, which is really perfect, because it allows you to add in whatever you like in yours. Or leave out an ingredient, that's okay too.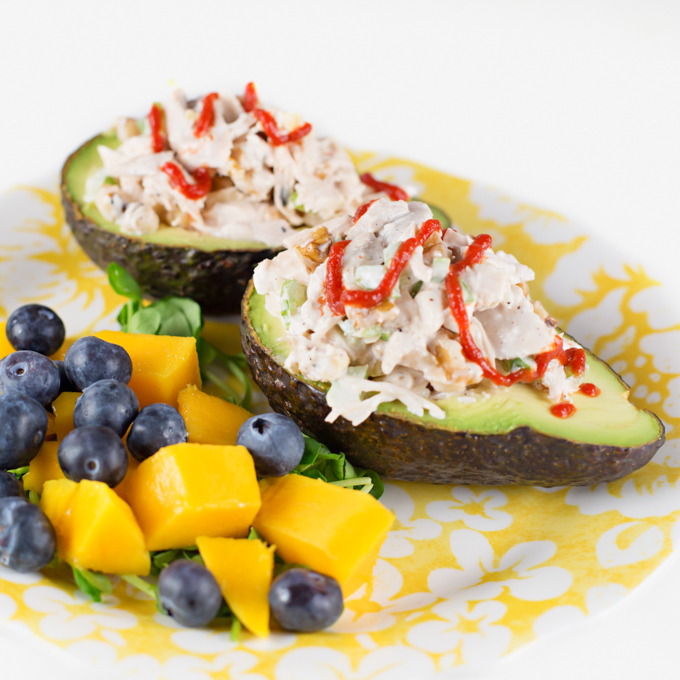 Being the avocado lover that I am, and the fact that we rarely have bread in the house, I decided to serve my Easy Chicken Salad in avocado halves. Along side, some fresh mango and blueberries on top of Pea Shoots. The sweetness of the fruit was the perfect side to my Sriracha spiced Easy Chicken Salad. And, could the colors look any prettier? I think not.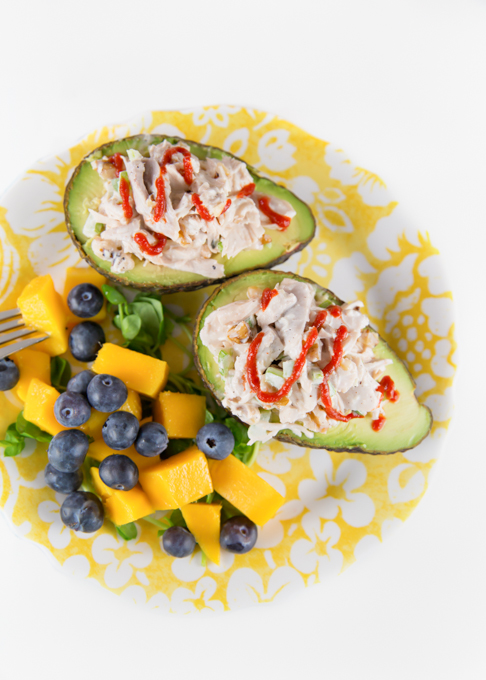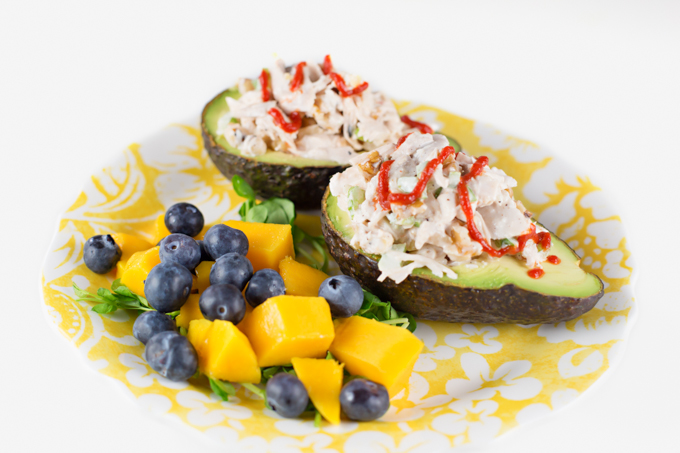 Easy Chicken Salad
Ingredients
2

cups

cooked chicken

chopped

1/4

cup

mayonnaise

2

TBSP

celery

chopped

2

TBSP

walnuts or almonds

chopped

1

tsp

jalepeno pepper

finely minced

Salt & pepper to taste

Sriracha to taste
Instructions
Combine chopped chicken in bowl with mayo, celery, nuts, jalepeno, salt & pepper. Mix well.

Cut avocado in half, remove pit, and scoop out a little of the avocado (this makes room for more chicken salad). Or don't and just pile on the chicken salad.

Drizzle with Sriracha to taste.

Options: add or delete any ingredients to your liking, serve on bread as a sandwich, serve in radiccho or lettuce leaves.
**If you like this recipe, please feel free to share onto your Facebook page, Pinterest, and don't forget to hit the YUM button!