I'm not sure why, it's still been about 80* and fall is not in the air, but I've been in the mood to make a big pot of homemade chicken soup. And, so I did! Homemade soup is good no matter the weather, and this Hearty Chicken Soup is no exception. This soup is loaded with fresh veggies that simmer in a homemade chicken stock. It's delicious and healthy!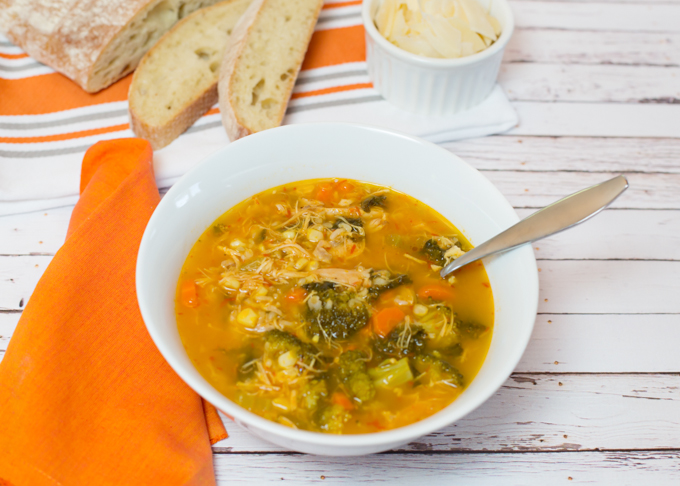 I recently overbought on fresh cherry tomatoes, and decided to oven roast them, knowing I'd add them to my chicken soup. A hot oven, a bit of salt, pepper, and a drizzle of olive oil, is all it takes to created sweet juicy roasted tomatoes. Once the tomatoes were roasted, about 20 minutes at 400*, I let them cool, then blended them smooth and refrigerated.
The day before I made the soup, I made my chicken stock. Making homemade stock is so simple, and great to have on hand. I like freezing it in different size containers so I can grab out whatever I need. I used a whole chicken (inners removed and rinsed), 2 carrots (peeled and cut in half) 4 stalks celery (including leaves, cut in half), 1/2 large yellow onion (peeled, cut in 1/2), 3 fresh garlic cloves (peeled), 1 bay leaf, 1 TBSP kosher salt, 1 tsp pepper. I covered it all will water and set it to cook, adding a little more water as needed. For this recipe I was using my 6.5 qt. Anolon stockpot (it was just barely big enough). Bring to a boil, then reduce heat, cover (leave lid slightly ajar), and simmer. Cook for approx. 2 1/2 hours or until chicken falls apart. Let cool. Strain broth. Discard veggies. Shred chicken meat. On day two, you'll be using all the stock and chicken meat to make this recipe Healthy Chicken Soup. I'd be lying if I told you I used all the chicken meat. I actually saved out just enough to make some Easy Chicken Salad for lunch.
Day two, make the soup! It actually can be done all in the same day, but I prefer to refrigerate the broth over night. Chilling it allows me to skim the fat off the top before I make the soup. Don't worry if the stock is thick and gelatinous. Here's what I read about jell-o like chicken stock:
"When you simmer a fresh chicken — complete with bones, skin, and meat — you extract the collagen from the bones. This collagen in the bones is what is causing your soup to gel. It's completely natural, and it only happens in rich, well-made chicken stock.

It can be a little freaky, though, if you're not expecting it! The good news is that this thick, gelled stock is extra-rich. If you want to thin it out, go ahead. Simmer the soup with two or three extra cups of water. It will help the soup last longer, and it shouldn't thin out the flavor too much." the kitchen.com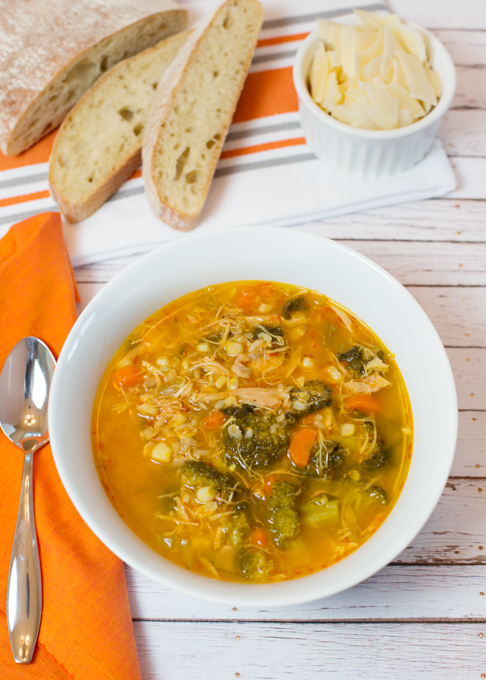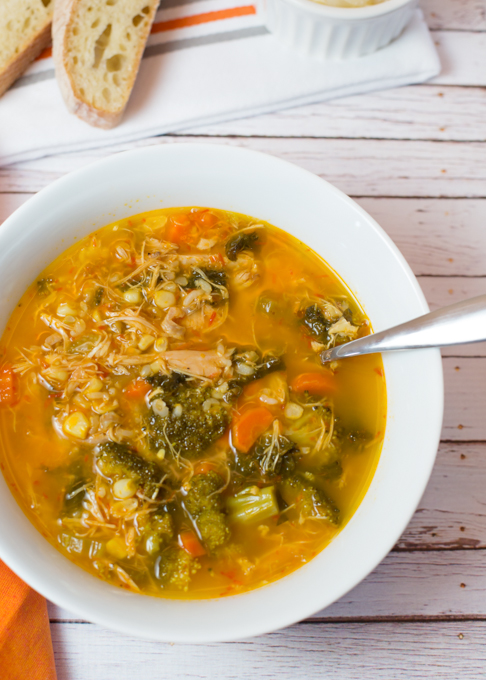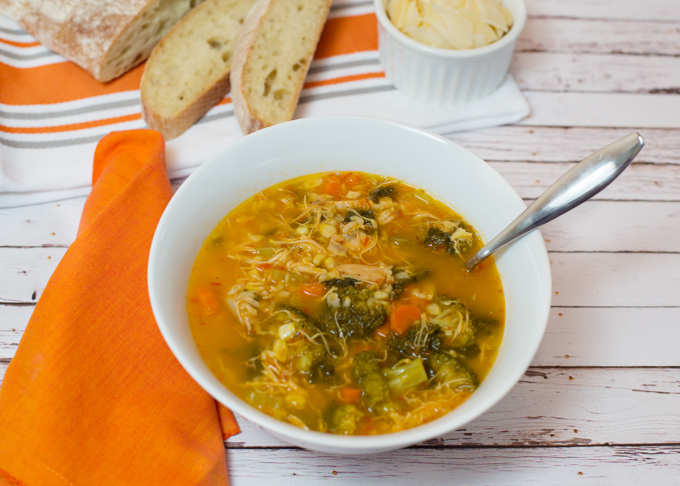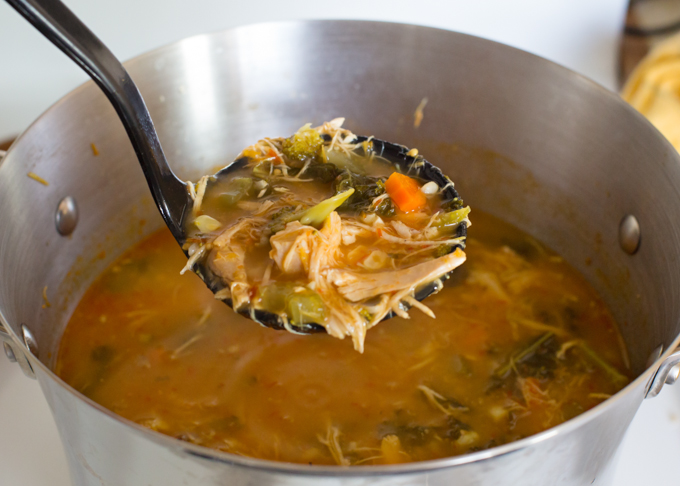 Ok, I know I made good stock and I have lots of roasted tomatoes, a refrigerator full of assorted fresh veggies, so let's get to making soup!
Healthy Chicken Soup
Ingredients
4-5

cups

homemade chicken stock

fat skimmed

2

cups

fresh roasted tomatoes

including roasting liquid

2

cups

water

3

cups

shredded chicken meat

1

ear fresh corn

kernels removed

1

small bunch broccoli

cut into small florets

2

carrots

thin half round cuts

2

celery stalks

thinly sliced

2-3

cups

fresh kale

ribs removed, chopped

1

cup

cooked brown rice

optional

For serving:

Parmesan cheese

optional
Instructions
Prep all veggies.

Using a large stock pot, add all ingredients (except kale and brown rice), heat over med high (without lid) until boiling, then reduce heat to low and simmer (with lid on, slightly ajar) for about 1 1/2-2 hours. Add kale and cooked brown rice, cook another 15 minutes.

Serve topped with parmesan cheese.
**Did you notice there is no added salt, pepper, or other spices added to the recipe? That's because I started with such flavorful stock and tomatoes. You can certainly add some to taste, but, for me, a little fresh parmesan on top was just enough.
The great thing about making this soup is that the recipe is totally flexible. Feel free to substitute veggies depending on what you like or have on hand. Frozen corn is an acceptable substitution if you don't have fresh. Fresh roasted tomatoes are certainly superior to canned, but it you must substitute, purchase good San Marzano tomatoes. If you prefer noodles to rice, add them. Or not.