When you're craving soft tacos and your "diet" doesn't allow it, cook up the next best thing. These Healthy Pork Carnitas were an answer to prayer. They were also an answer to our dinner time prayer that they cooked away in my crock pot, seeing as my afternoon kind of de-railed. Being available for family and neighbors and getting a warm satisfying meal and walking back into my house with a fire lit and candles burning (thank you hubby) after walking the neighborhood with your 8 year old neighbor, is win (serving others), win (awesome husband), win (delicious home cooked meal).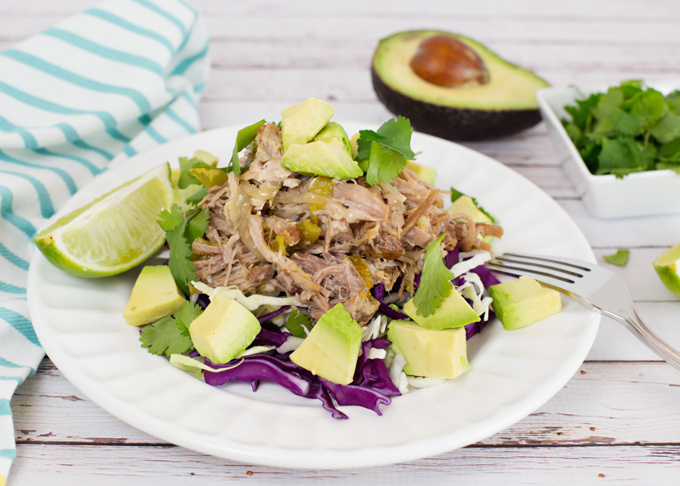 I really enjoy using my crock pot, especially during the winter months. There's just something so comforting about a delicious warm meal on a cold rainy evening. And, once the prep is done in the morning, you can go about your day.
I always like to season and brown my meat prior to putting it in the crock pot. It isn't a necessary step, but I love to sear the seasoning into the meat. I also love how browned it gets on all sides. Cast iron works like a champ for this.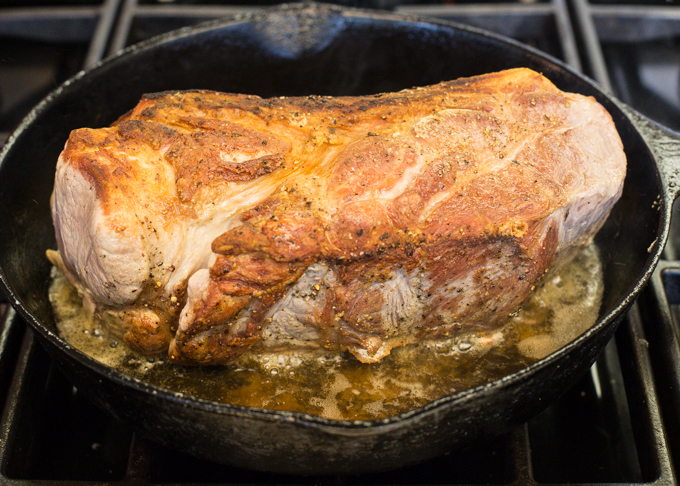 Once browned, place the ingredients into the crock pot and set it and forget it. Please note that the lime and lemon halves were removed about an hour into cooking (to prevent a bitter pithy taste if they overcook). If you can't be home to remove them, simply squeeze the juice in and do not place halves into the pot for cooking. You're also going to notice that the recipe calls for an orange (juiced). I did not have that on hand, so I added the juice in about an hour later and did not add the actual orange.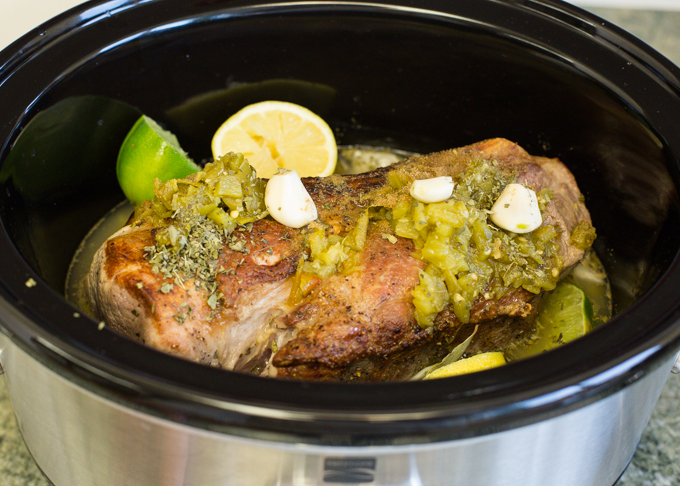 The step below is also optional, but if you like "crispy edges" on your carnitas, don't skip it. I learned this little tip from Meggan at Culinary Hill. After you "pull" your pork, simply place it into a broiler proof pan (I used the same cast iron from earlier), spoon some of the goodies (onions, garlic, and chilis from the crock pot) and place under your broiler for about 10 minutes. Voila' Crispy edges.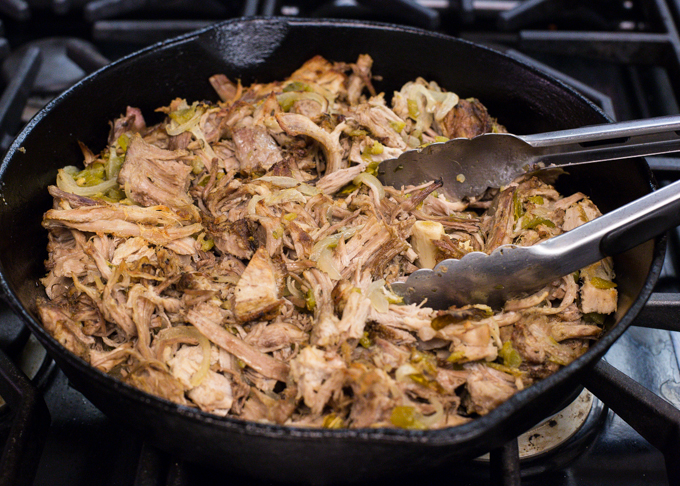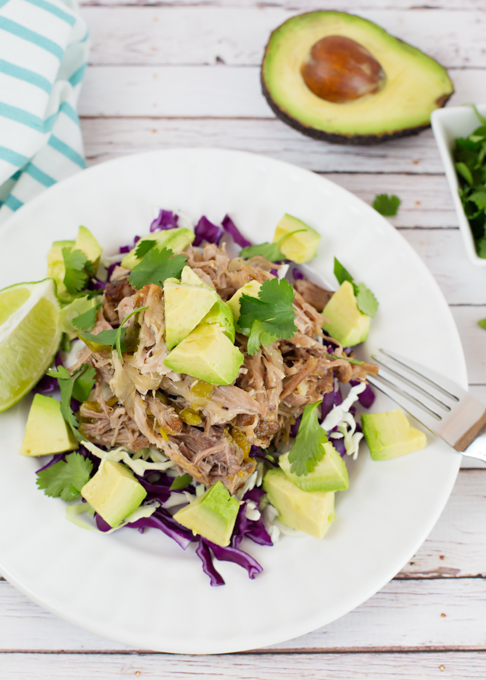 I'm showing two different ways to enjoy this Healthy Pork Carnitas. First, as a salad, over crispy shredded cabbage, topped with lots of fresh squeezed lime, avocado, and cilantro.
Second (below), serve over a bed of steamed rice (white, brown, or in our case cauliflower rice). Add the same delicious toppings (avocado, lime juice, and cilantro), then spoon a bit of the cooking sauce from the crock pot over the top. It turned it almost into a soup.
And thirdly (not pictured), and not Whole 30 compliant or diet friendly, is to serve as a taco on a thick warm flour tortilla, topped with the lime juice, avocado, cilantro, and of course, a drizzle of crema or sour cream.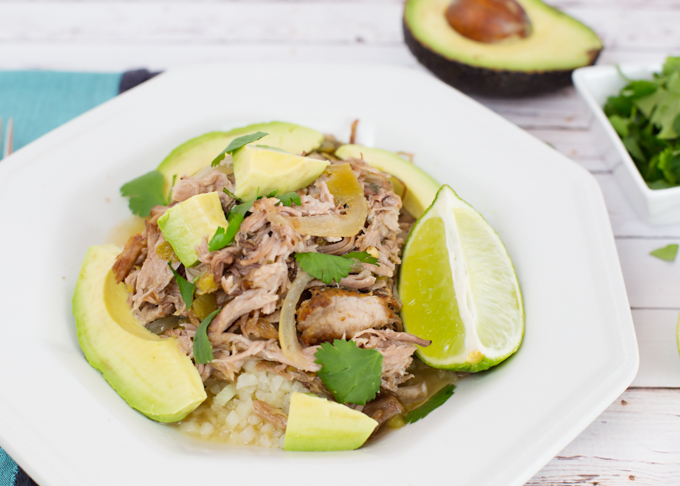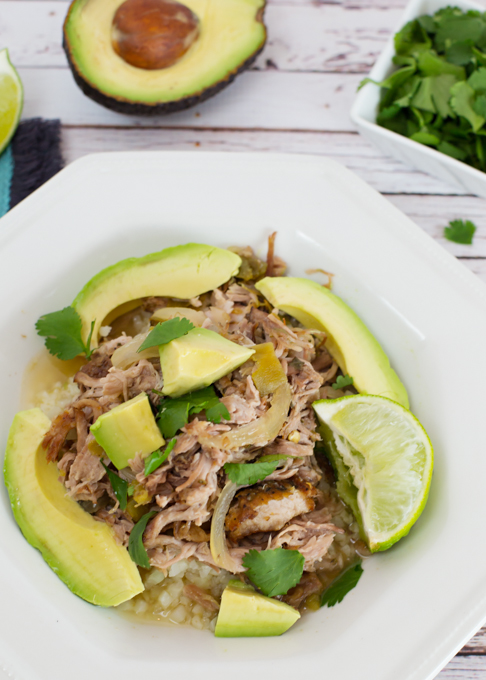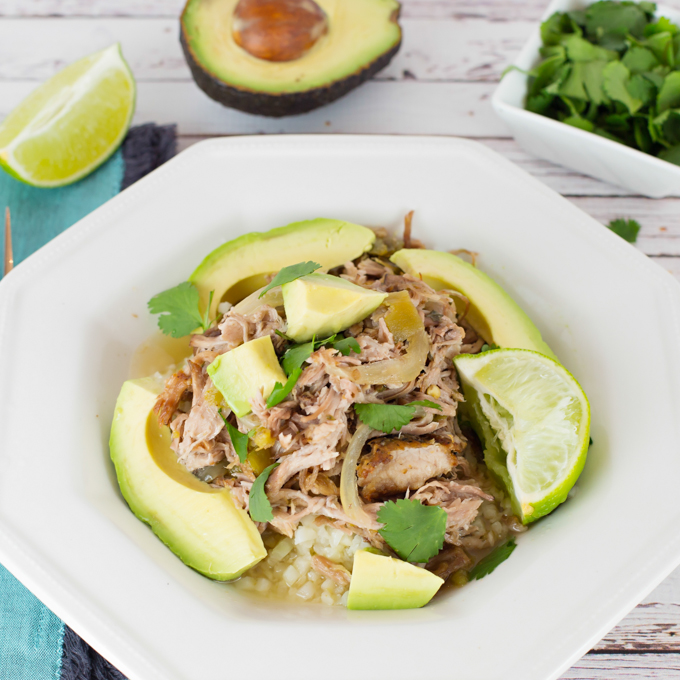 **Disclaimer, if you're following any of my recipes that I note as Whole 30 compliant, please check your ingredient labels first as they can vary.
Healthy Pork Carnitas
Ingredients
4

# bone in pork butt

For pre-browning:

1

TBSP

coconut oil

1

tsp

salt

1

tsp

pepper

2

small cans Ortega chilies

I use one hot, one mild

2

cup

chicken or veggie broth

I used chicken

2

bay leaves

1

TBSP

oregano

1

TBSP

cumin

1

orange

halved and juiced **please see above regarding citrus

1

lemon

halved and juice of one half **please see above regarding citrus

1

lime

halved and juiced **please see above regarding citrus

Optional toppings:

shredded cabbage **please see above regarding how to serve

cooked rice or cauliflower rice **please see above regarding how to serve

avocado

peeled and cubed

cilantro

chopped

sour cream

not W30 approved
Instructions
As an optional step, I seasoned (salt & pepper) pork in hot iron skillet with a little coconut oil. Turn and brown on all sides. When browned, place meat into large crock pot.

Add chicken broth, chilies, bay leaves, oregano, cumin, and juice of citrus fruits. Optional, actual halved fruit may be added to crock pot, but remove after about an hour.

Cook on high for 10 hours. Pork will be done when it easily shreds with a fork.

Remove from crock pot and shred (pull) meat using two forks.

**Optional, after shredding, place meat and some of the scooped out onions and chilies, into a broiler proof pan and broil for aprox 10 minutes or until edges get a little crispy.

Serve as a taco, over rice, or over salad w/optional toppings (avocado, lime juice, cilantro, sour cream).