Who doesn't love a good thick pork chop now and then? I love them, especially these Garlic Thyme Pork Chops. And, they're even better when served with Homemade Cinnamon Applesauce.
These Garlic Thyme Pork Chops were tender, juicy, and flavorful. They also paired well with the applesauce and Candied Sweet Potatoes. They'd also be great served with mashed potatoes. Oh heck, you can serve these with just about anything, but don't forget to make the homemade applesauce.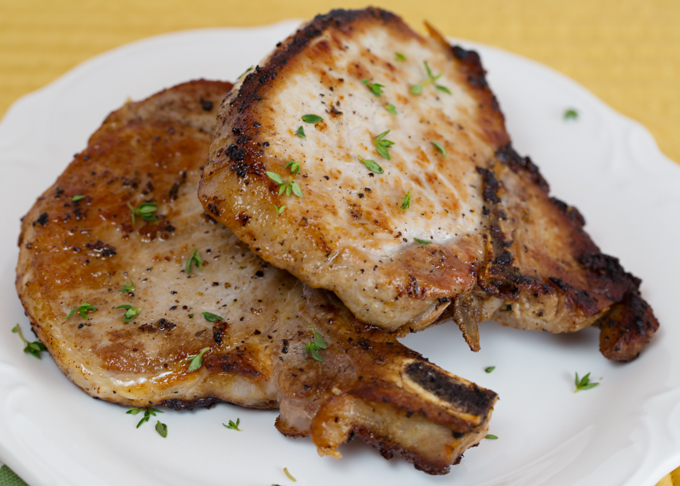 Standing at the butcher counter at my favorite local grocery store, I couldn't resist the thick cut chops that happened to be on sale. I know (not from experience of course), that pork chops can often be a little dry, but I was craving delicious. Luckily I remembered that I had a great pork loin recipe and decided to adapt it for the chops. They turned out delicious!
I did a quick brine, then went about my day. A few hours later, I quickly pan seared the chops (I cooked mine in my favorite cast iron skillet) to give them a caramelized golden crust and finished them off in the oven, where they roasted in some buttery, garlicky, thyme flavored marinate. Before serving I topped with just a little fresh topped thyme. Give this recipe a try and say good bye to dried out pork chops.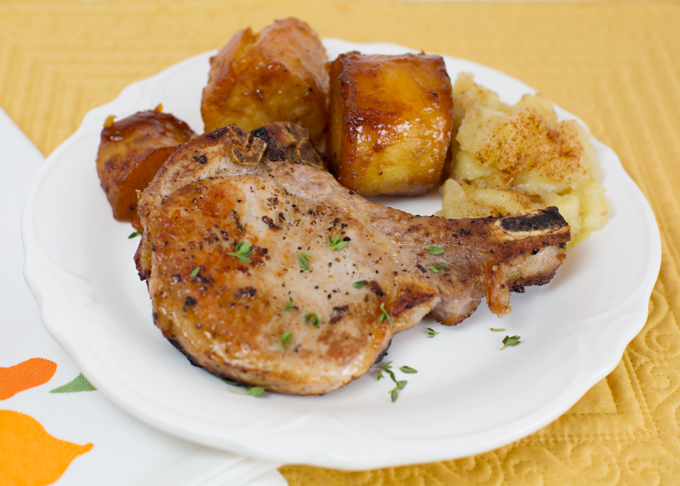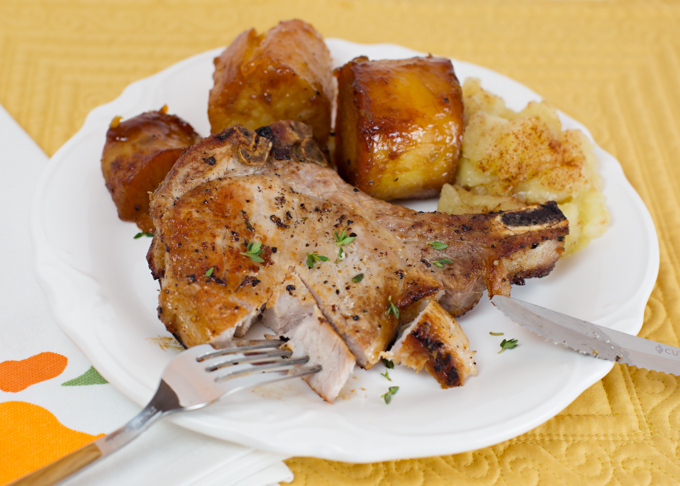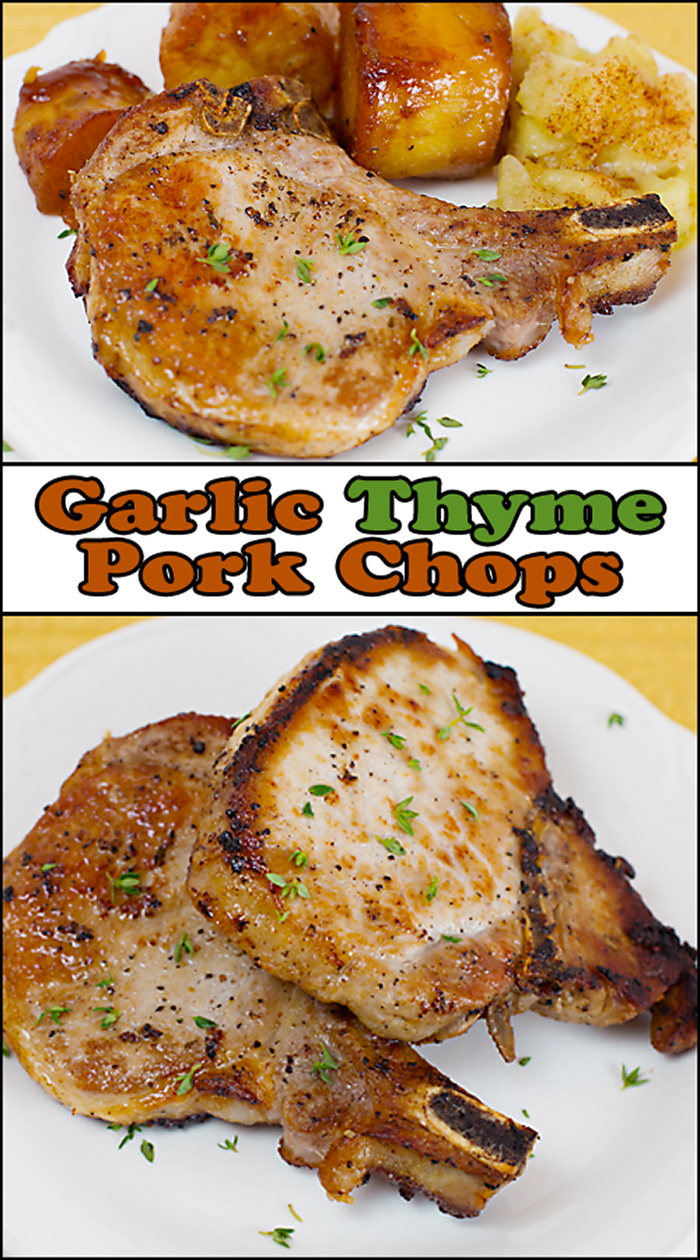 Garlic Thyme Pork Chops
Ingredients
1/2

tsp

sugar

1/2

tsp

kosher salt

2-4

bone-in pork chops

3/4-1" thick

4

TBSP

butter

5-6

cloves

garlic

3

TBSP

apple cider vinegar

2

TBSP

chopped fresh thyme

1/2

tsp

fresh cracked black pepper

2

TBSP

canola or olive oil
Instructions
To cure the pork chops: mix together the sugar & salt. Rub mixture all over pork chops and place into zip lock baggie. Refrigerate for at least one hour (or as long as 4 hours).

Marinade: Melt 4 TBSP butter in small saucepan. Add the garlic and cook until fragrant, but not brown. Add vinegar, thyme, and pepper. Remove from heat.

In an oven proof skillet (I used cast iron), heat the canola oil over high heat. Place pork chops into hot pan and sear until golden brown (approx. 3 minutes per side). Remove pan from heat.

Generously baste the chops with the butter/garlic/thyme mixture and place into preheated 375* oven. Cook for 6-10 minutes or until internal temp reaches 140-145* (in thickest part of chop). Do not overcook.

Before serving, top with a little fresh chopped thyme.
Other Pork suggestions for you:
Pulled Pork Sandwiches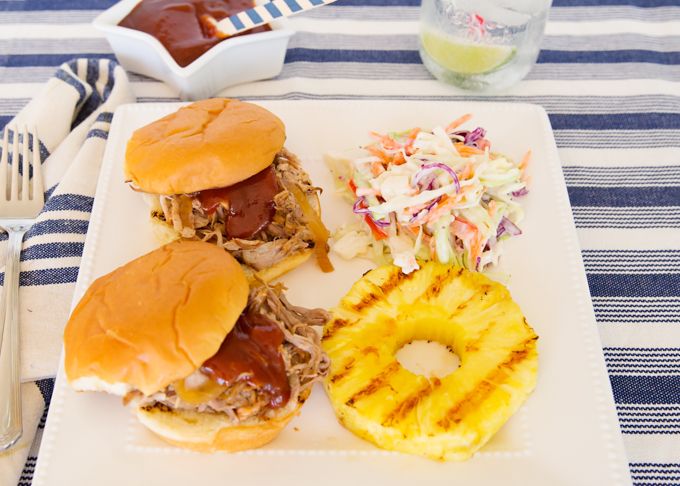 Peppered Pork Sliders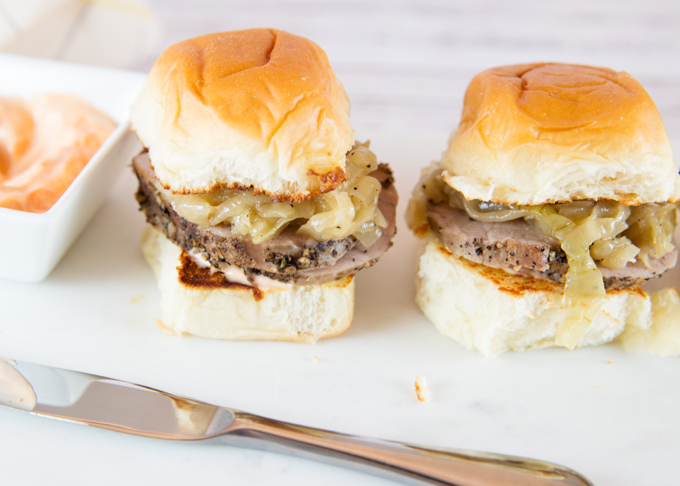 Healthy Pork Carnitas