A few years back I had a friend help me out when I was hosting a dinner party. I say "dinner" in the loosest of ways, because actually it was a grazing style, lots of appetizers and hor d'oeuvres party. I made a few things, she made a few things, and together we cooked all day. We had as much fun prepping as I did at the party! Anyways, one of her recipes was a huge hit and I knew I needed the recipe. Thankfully she gladly shared it with me and I've made these Peppered Pork Sliders w/Caramelized Onions many times since then. Isn't that really what recipes are all about? Sharing them with family and friends and hopefully handing them down for generations to come.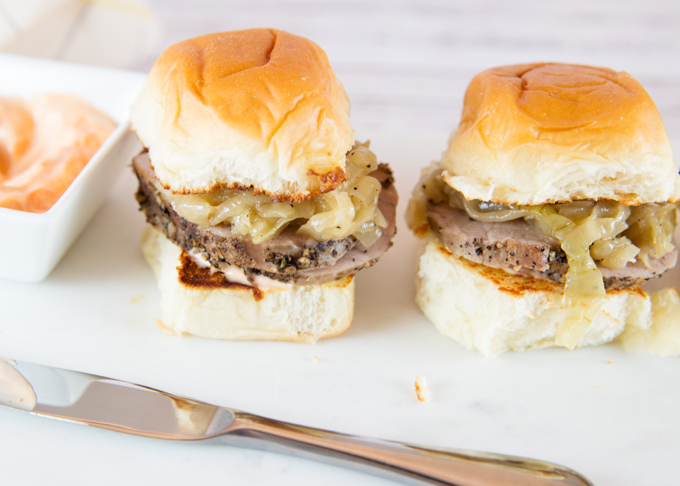 This dish is a little time consuming because you need to Caramelize the Onions which takes some time, but please do not let that deter you. In fact, make this dish on a weekend and "if" you have some onions left over you can use them up the following week. How about topping a burger with them, making some homemade Onion Dip, or dumping them in a pot of homemade soup. I also wouldn't hesitate to add them to a pasta dish or this Potato Breakfast Bowl. Can you tell that I'm a fan of leftovers??
I should add that the only way I've enjoyed this Peppered Pork is as a slider, however, it would be a delicious dinner served with a side of mashed potatoes or simple buttered noodles and a salad or veggie. The pan dripping would make a delicious gravy!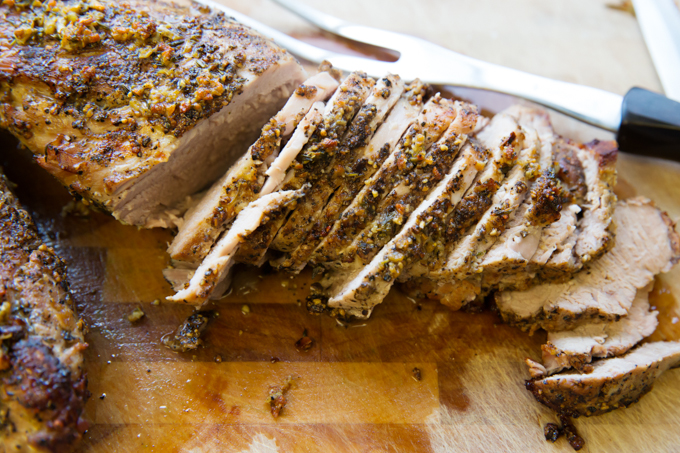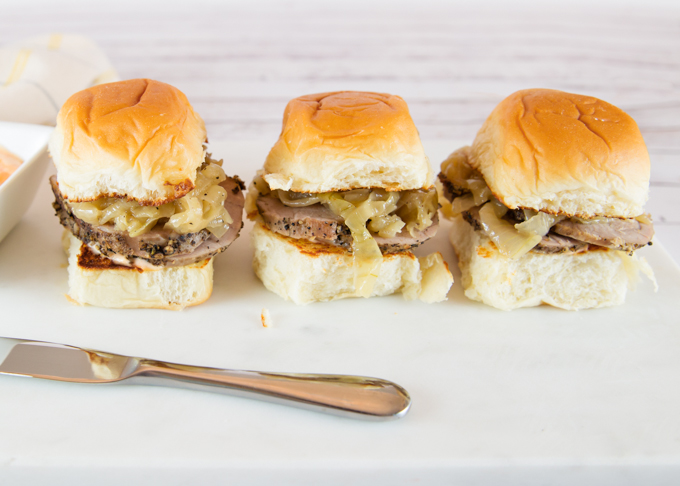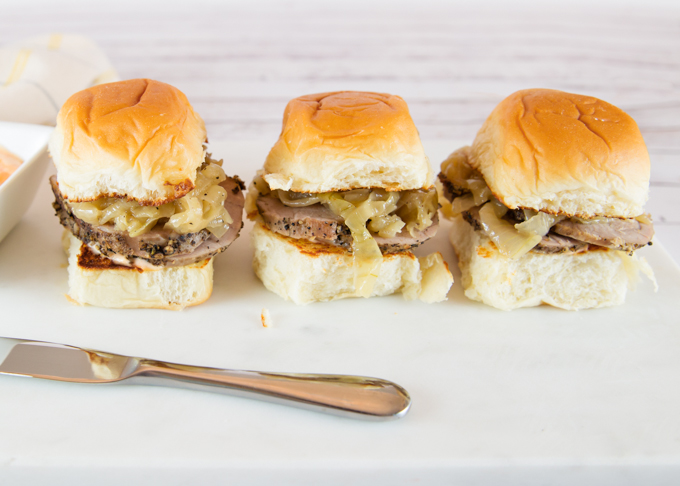 Peppered Pork Sliders
Ingredients
3 1/2-4

# pork loin roast

I used pork tenderloins

1

tsp

sugar

1

tsp

salt

4

TBSP

black peppercorns

roughly ground

5

TBSP

butter

6

cloves

garlic

crushed

3

TBSP

apple cider vinegar

2

TBSP

fresh thyme

chopped

2

TBSP

olive oil

Hawaiian Rolls w/a little butter for toasting

Mayonnaise & Sriracha
Instructions
Caramelize your onions by placing them in a large skillet with 2 TBSP olive oil and 2 TBSP butter. Cook over med/low heat for at least an hour, stirring regularly *please see linked post.

Dry rub the pork roast with the sugar & salt, place into large zip baggie and let sit for at least 1-2 hours (overnight is ok).

Crush the peppercorns with mortar/pestle, a spice dedicated grinder, or use a large grind from your pepper mill. Rub the meat with the peppercorns. Save what doesn't stick to add to marinate.

Melt butter in small pan over med/low heat. Add garlic, vinegar, thyme, and remaining pepper.

Preheat a large cast iron or other oven proof skillet on stovetop to med/high. Add oil.

Season the meat with a little salt and place into hot pan. Quickly brown all sides of pork.

Baste meat with butter mixture and place into preheated 375* oven. Set timer to 15 minutes. Turn pork over and spoon additional butter mixture over top. Set oven for another 20 minutes. Check doneness at this time. Thermometer should read to 145*

Thinly slice your pork loin.

To prepare sandwiches lightly grill/toast rolls with a little butter. Prepare some Sriracha mayonnaise (to taste). Layer toasted roll, mayo, a few thin slices of meat, and some caramelized onions.
**If you like this recipe, please feel free to share onto your Facebook page, Pinterest, and don't forget to hit the YUM & Stumble buttons!