Sometimes it's the hardest things that I can't get past. Like should I call this Old Fashioned Potato Salad, Picnic Potato Salad, Mom's Potato Salad………..or plain old Potato Salad. Seriously, sometimes I need to stop over thinking things. Ugggh, does it really matter? Maybe for a Google search it does, but for me, it's just plain old Potato Salad (like my mom used to make).
I find that I'm always up for trying new foods, and honestly I like just about everything, but, when it comes to foods that are a part of my childhood, please don't mess with them. THIS is how Potato Salad should be made!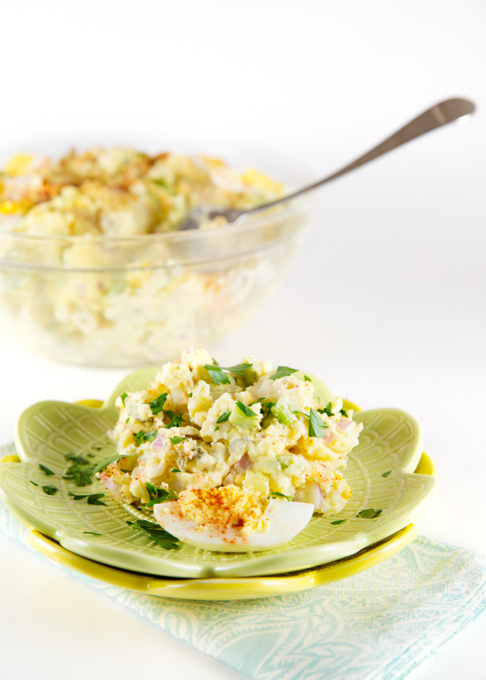 Yes, it contains mayo and mustard. Yes on celery and onion. Yes on pickles and egg. Don't mess with it! And the other thing about Potato Salad is that you really can't make just a serving or two. The bowl must be big! I'm not sure why more is better (other than it's good), I think it's because Potato Salad is often served at a BBQ or picnic. And BBQ's and picnics often means inviting friends and family. It means being outdoors and playing in the sunshine, working up an appetite. It means sharing food with people you love!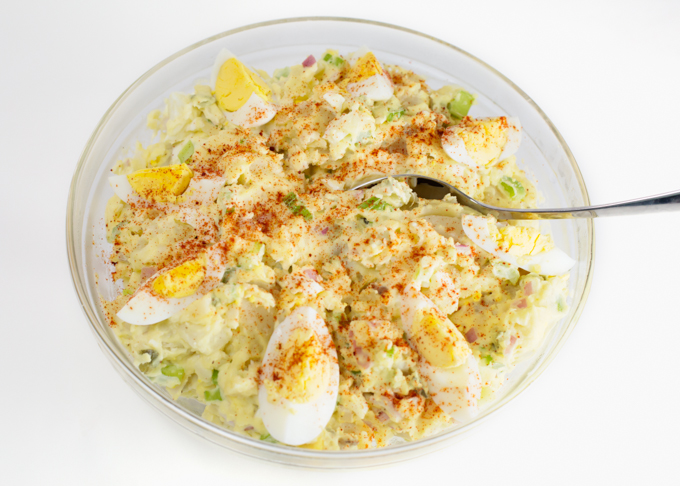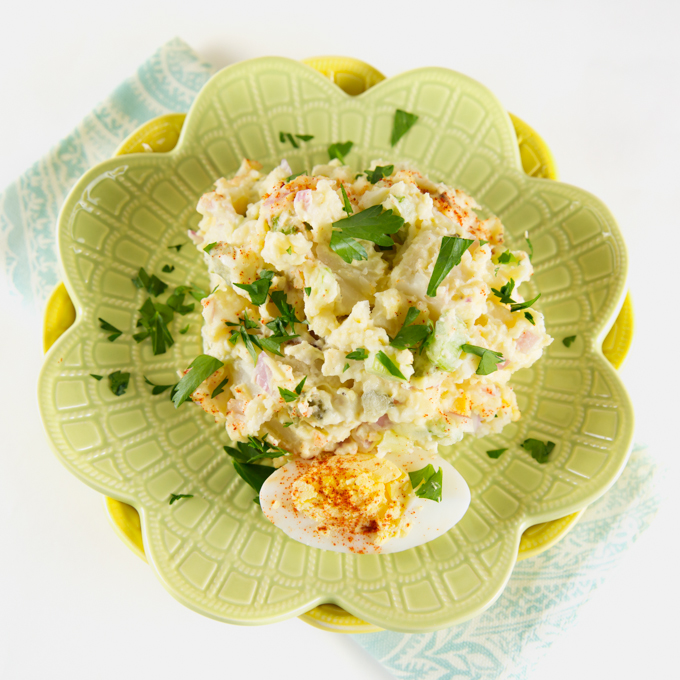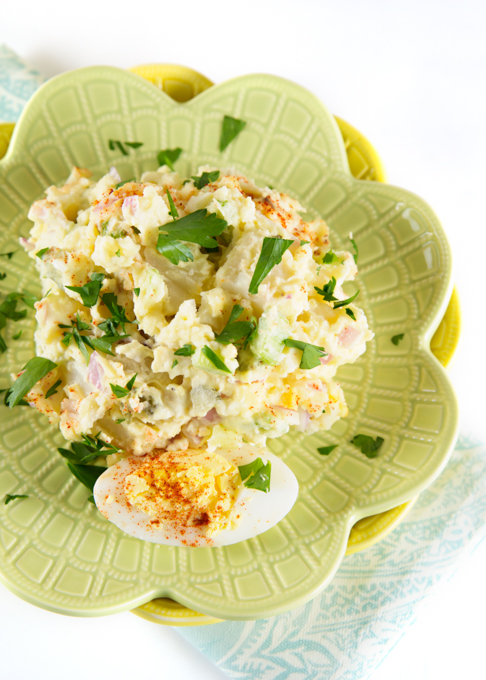 I don't think the photo shows the size of the bowl, but when you serve up dinner and your husband asks, "who else is coming?", you know you've made enough!!
The recipe below is for a medium batch of potato salad, but I'll let you be the judge.
Potato Salad
Ingredients
6-8

large russet potatoes

scrubbed clean

1 1/2-2

cups

real mayonnaise

not low fat

1/4

cup

yellow mustard

1/2

med red onion

chopped

1/2

cup

dill or sweet pickles

chopped

1

TBSP

apple cider vinegar

3-4

celery stalks

chopped

1

tsp

salt

1/2

tsp

pepper

1/2

tsp

celery salt

5

hard boiled eggs

chopped and wedged

Optional toppings: paprika and flat leaf parsley.
Instructions
Wash potatoes and place into large pot. Cover with salted water. Boil until potatoes are tender.

Let cool to touch and peel. Cut into large chunks.

Chop red onion, pickles, celery, and 4 of the hard boiled eggs. Add to potato bowl.

In separate bowl, mix together mayo, mustard, salt, pepper, and celery salt. Taste and season as needed.

Add mayo mixture to potatoes. Mix gently to coat well.

Top with wedges of hard boiled egg, a sprinkling of paprika, and some chopped parsley.
*Mayo, mustard, and spice amounts may vary depending on size of potatoes. Feel free to add a little more or less as needed.
**If you like this recipe, please feel free to share onto your Facebook page, Pinterest, and don't forget to hit the YUM button!