Christmas just isn't Christmas in our family without a lot of homemade Rocky Road. Among pies and cookies, it proudly takes center stage on the dessert table, and is enjoyed by all.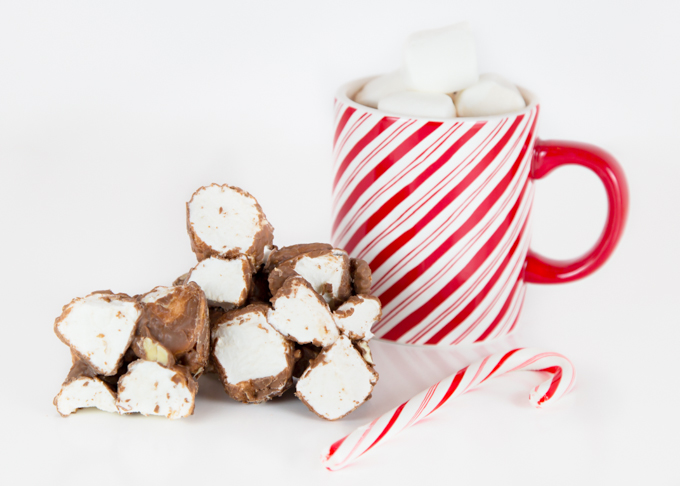 I, along with a couple of sister-in-laws, and a niece, make multiple large batches every year. It's always wrapped up pretty and gifted to many friends, neighbors, teachers, and co-workers.
Making Rocky Road is very simple. Just three ingredients. Chocolate, marshmallows, and nuts. I think that walnuts are what the others use, but I prefer to use pecans. Being a "food" family, we order our chocolate in large blocks (11 pounds to be exact) from our food service distributer. Marshmallows are by the case. I've been making it for so many years, and in such quantity, that I really had to guess at measurements, but really with just three ingredients, you can't mess it up. If you like a lot of nuts, add more. Like less? No problem. As long as everything is well coated with chocolate, it's going to be delicious. I like mine with lots of big pieces of nuts and just a thin coating of chocolate. Feel free to play around with the amounts to make it just how you like it.
Start by slowly melting the chocolate over a double boiler.
Once the chocolate is completely melted. Remove top pan and let it cool slightly. If the chocolate is too warm when you add it to the marshmallows, they'll begin to melt. Add the pecans (or walnuts if you prefer).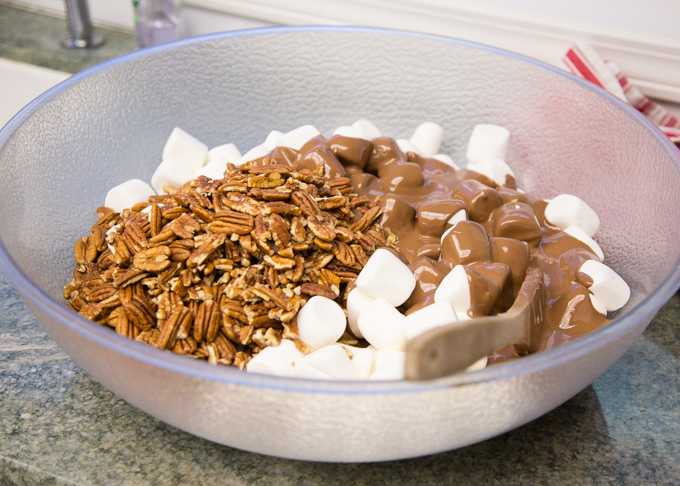 Mix it all together until everything is well coated with chocolate. Pour into a parchment lined sheet pan and let it set.

Once it's set, remove from pan (lift out on the parchment paper). Cut into pieces.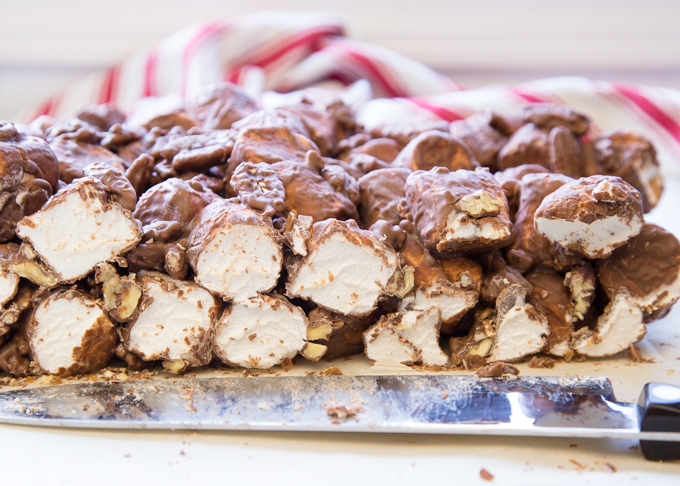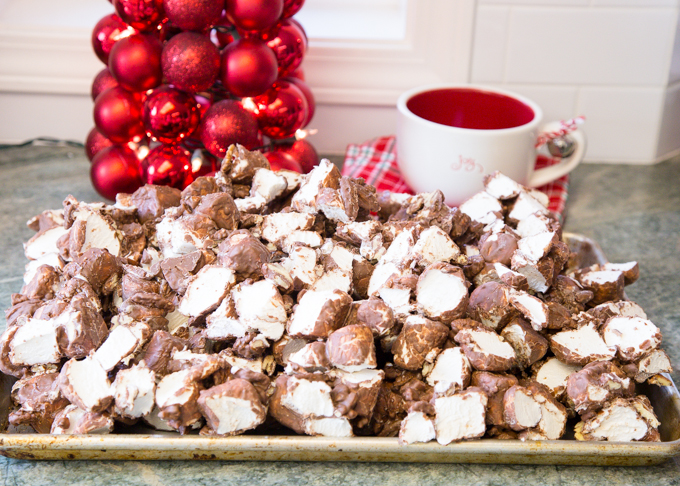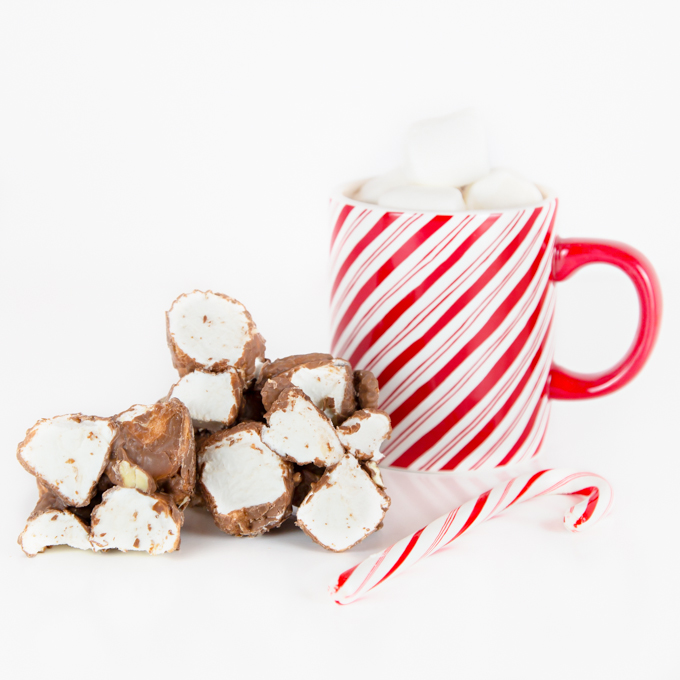 I think we might be setting some out for Santa this year, with a big glass of cold milk, or maybe a cup of cocoa. I think he get's tired of cookies!
I love deciding on how I'll wrap it as gifts. This year most of mine are going on some cute little square plates, but I couldn't resist this oversized jingle bell mug from Home Goods. They only had one 🙁 I still haven't decided if I'll gift it to a very special friend, or maybe it's Merry Christmas to me. I'd love to enjoy my morning coffee in that mug all Christmas season!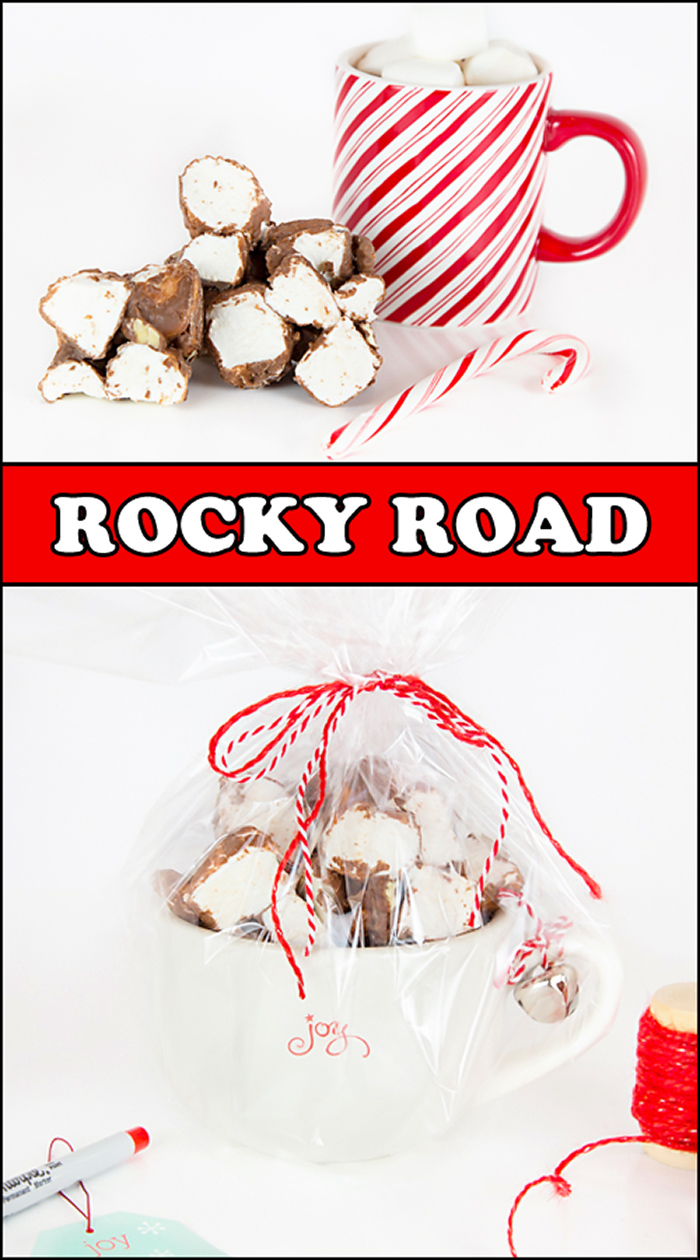 Now you tell me, wouldn't you love it if a friend or neighbor showed up at your door with a mug full of Rocky Road for you??
Rocky Road
Ingredients
2

#'s good quality milk chocolate

I use block chocolate, but chips are fine.

3- 1

# bags Kraft Marshmallows

4-5

cups

pecan or walnuts

rough chopped

**measurements are approximate.
Instructions
Place chocolate in double boiler and heat slowly until melted. Once melted, remove from heat and let cool slightly.

While chocolate is cooling, rough chop nuts.

Line a sheet pan with parchment paper.

Place marshmallows into a large bowl. Pour in cooled chocolate, add nuts and gently mix together until well combined.

Pour chocolately marshmallows onto parchment lined pan. Let cool completely.

Using a large knife, cut into pieces.

Store in a covered tupperware style container.
If you love Christmas treats, you'll also love:
Cranberry Croissant Bread Pudding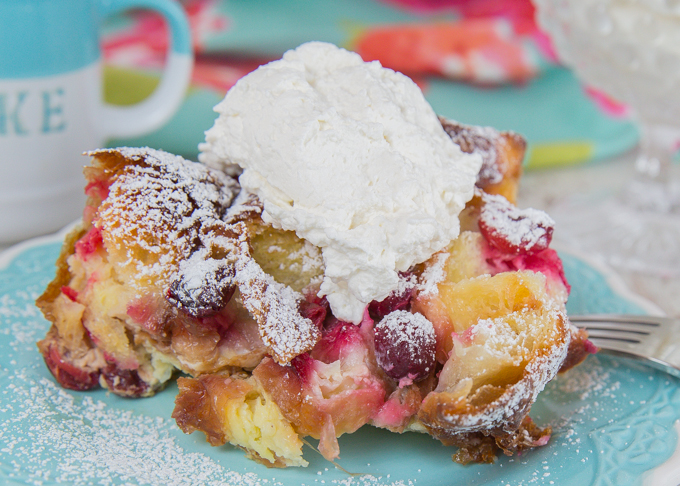 Christmas Cake Pops
Potato Chip Cookies