BBQ'd Teriyaki Chicken Kabobs are a must make this summer! Tender marinated chicken grilled to perfection with fresh veggies, all topped with a glaze of teriyaki and served over a bed of steamed rice are the perfect summertime meal! Grab a cold beverage and dine outdoors for the perfect evening!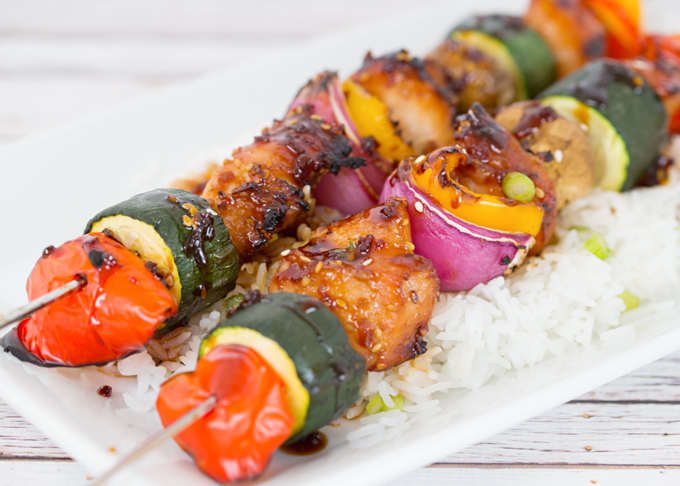 Teriyaki Chicken Kabobs are quick to BBQ and easy to prep. Begin by marinating cubed chicken, for at least an hour (or as long as overnight), slice up some fresh veggies, and skewer them up.
Now just imagine these skewers BBQ'ing outdoors (oops, I didn't get that picture, but you get the idea). I used my metal skewers for these Teriyaki Chicken Kabobs as I find them a little sturdier than using wooden skewers, but either work, so feel free to use what you have.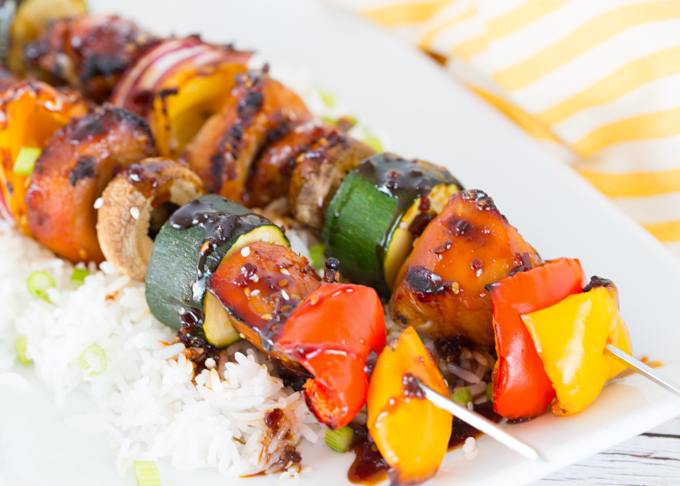 I topped my Teriyaki Chicken Skewers with a simple teriyaki glaze that I made by reducing down some teriyaki sauce until it slightly thickens. I used the same glaze that I used on my Sausage & Pineapple Kabobs. It's simple and delicious!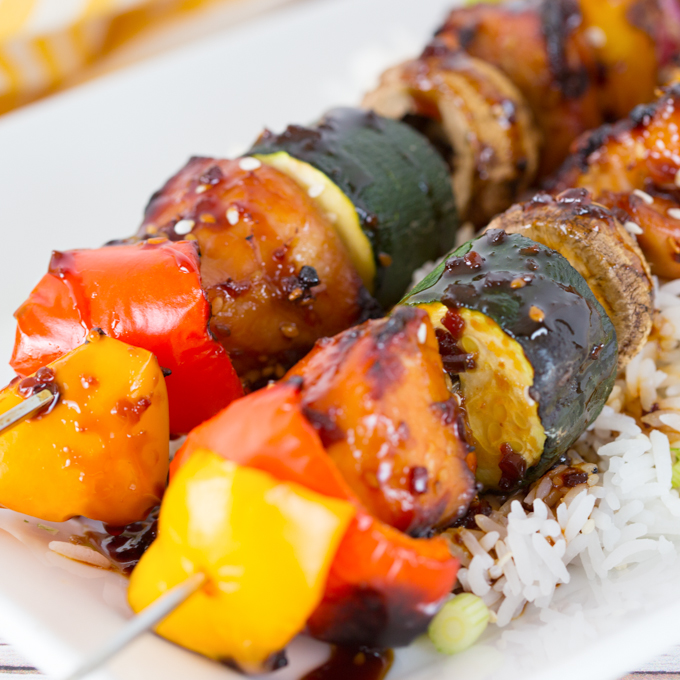 If you're a big fan of grilling and dining outdoors, make sure and share this recipe!
Teriyaki Chicken Kabobs
Makes approx. 8 skewers
Ingredients
4

boneless chicken breasts

cut into cubes

1

cup

Teriyaki marinade

for marinating chicken I used Soy Vay.

4

small zucchini

thickly sliced

2

Bell peppers

cut into large chunks I used red and yellow.

1

red onion

cut into large chunks

12-15

mushrooms

For glaze:

1

cup

teriyaki sauce

¼

tsp

brown sugar

¼

tsp

cornstarch

used to help thicken the glaze

Optional: chopped green onions for topping
Instructions
Place cubed chicken into a large zip lock baggie with 1 cup teriyaki sauce. Allow to marinate for at least one hour or as long as overnight.

Prep all veggies.

If you are using wooden skewers, make sure to soak them in cold water prior to skewering. This prevents them from burning on the grill.

Skewer meat and veggies in any order you'd like.

BBQ on medium grill, turning often until veggies are tender and chicken reaches a safe cooking temp of 160*

For glaze:

Measure teriyaki sauce into a small saucepan, stir in brown sugar. Heat over medium heat until it comes to a low boil.

Stir ¼ cornstarch into about a tablespoon of water until well blended. Stir into teriyaki sauce. Reduce heat to low and continue to simmer until sauce begins to thicken (20-30 minutes).

Serve over a bed of white rice and top with a drizzle of teriyaki glaze, and chopped green onion.