Summertime is the perfect time to make a fresh and delicious Panzanella Salad! If you have a garden (or a local farmer's market) then this is the salad for you! Imagine fresh ripe tomatoes, cucumbers, and lots of fresh basil, combined with lightly baked croutons, gently tossed with a homemade vinaigrette! Believe me when I say that it's as delicious as it is colorful!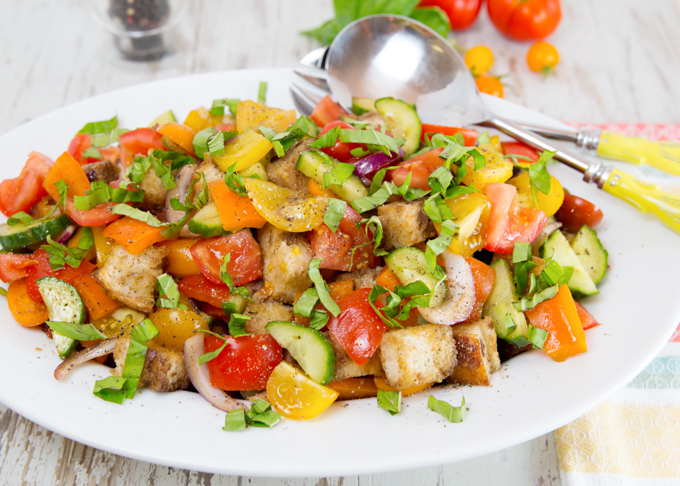 Besides the veggies mentioned above, I like to add yellow, orange, & red bell peppers, red onion, and a big handful of zesty kalamata olives. You could even get a little crazy if you'd like and add some mozzarella or feta cheese. This is the type of salad that you can't mess up as long as you start with delicious ripe tomatoes.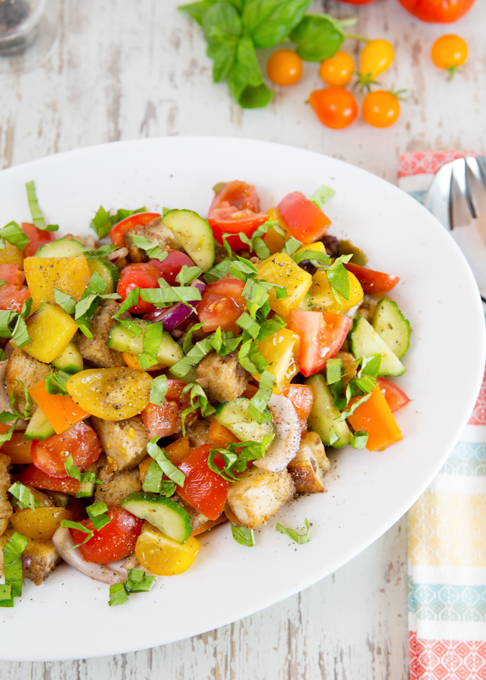 If you've never had a Panzanella Salad, I know what you're thinking? Does the bread get soggy from the dressing? My answer to that is NO! Of course it does soak up some of the dressing, but if you start with delicious lightly toasted croutons, they only get better with the delicious dressing. I love this leftover the next day for lunch, but I will admit, the croutons are soggy by the second day. I recommend not adding the croutons more than 45 min-1 hour prior to serving.
According to Wikipedia Panzanella Salad originated in Tuscany, Italy. "Panzanella or panmolle is a Tuscan salad of bread and tomatoes that's popular in the summer. It includes chunks of soaked stale bread and tomatoes, sometimes also onions and basil, dressed with olive oil and vinegar."  While I have used plain day old bread, I prefer to lightly toast my bread with a little olive oil, garlic, salt & pepper for some additional flavor. Either way, it's a great salad!

Panzanella Salad
Author:
Joy in Every Season
Ingredients
3 cups fresh ripe tomatoes (cut into large chunks)
3 cups fresh assorted veggies: cucumbers, red onion, red, yellow, orange bell pepper (thinly slice the red onion, the cucumber & bell peppers can be larger).
½-1 cup fresh basil (cut into chiffonade or thin strips)
**Optional - ¼ cup kalamata olives (rough chopped)
Croutons (about 4 cups):
¾ loaf french bread (cut into large sized croutons)
Olive oil (a good drizzle to lightly coat bread)
½ tsp garlic powder
½ tsp kosher salt
½ tsp fresh cracked pepper
**optional - 2 TBSP butter (melted) *For drizzling over bread along with olive oil
Vinaigrette Dressing:
½ cup olive oil
¼ cup balsamic vinegar
2 cloves garlic (crushed)
1 TBSP dijon mustard
½ tsp salt
½ tsp pepper
Instructions
Make croutons by cutting french bread into large cubes. Place on large rimmed baking sheet and drizzle with olive oil/melted butter and sprinkle with garlic powder, salt, & pepper. Gently mix. Bake at 350* for approx 15 minutes, stirring once during baking, until croutons are just starting to turn light golden, but are still soft (they will harden up a bit once cooled). Do not over bake!
Make dressing by adding (olive oil, balsamic vinegar, garlic, mustard, salt & pepper into small bowl and whisking until well combined and slightly thick. Or combine all ingredients into a small jar w/lid and shake until well combined.
Prep all veggies (tomatoes, cucumber, onion, bell pepper, olives) and place into bottom of large bowl. Add about ¾ of the dressing and lightly toss.
Once croutons have cooled, place croutons in bowl with veggies and gently mix. Add the remaining dressing if desired.
Top with fresh basil and a round of fresh cracked pepper.
Enjoy!