This Avocado Egg Bake recipe is Pinterest inspired. I've made it before and enjoyed it so much that I figured I'd share it with you. It's a perfect recipe to make for just one, or make up a pan full and host a brunch! A side of toast and a little fresh fruit and you have the perfect breakfast. Of course, if I was making this to share with friends, there might just be a mimosa along side it. And maybe some crispy bacon. Yum!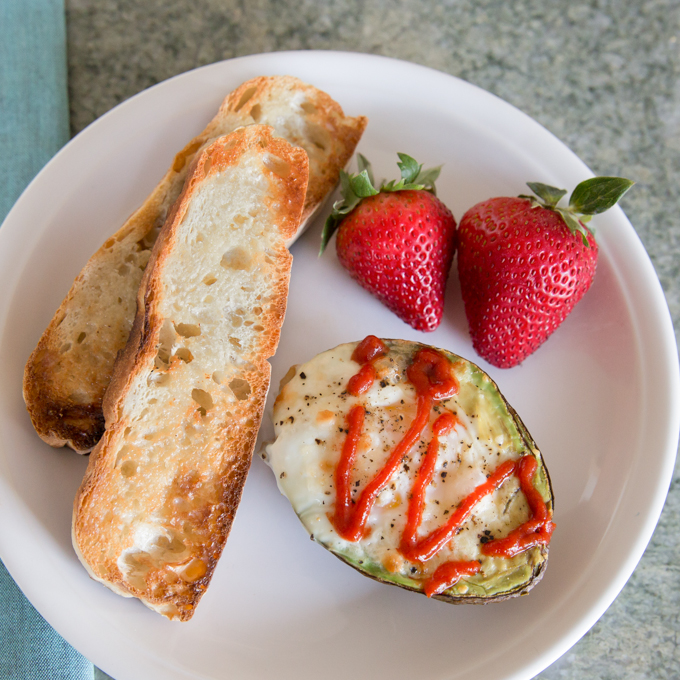 My favorite way to eat this is to take a little spoon of the avocado egg bake and place it on the bread. It's a delightful bite of the crunchy toasted french bread with the creaminess of the avocado and the baked egg. The parmesan cheese added a perfect salt balance and of course, the Siracha, added the kick. After my first bite of this dish, I was thinking I'd put a bit too much Siracha on it, but by the end, I had the bottle in my hand and was adding a bit more. I guess it's just slightly addicting. The cool fresh berries were the perfect last bites of this meal.
Avocado Egg Bake
Ingredients
1

large avocado

2

med or large eggs

Salt

Pepper

Grated Parmesan
Instructions
Line a baking pan with foil.

Cut avocado in half lengthwise and remove seed.

Make a small slice off the bottom of each half (this will allow the avocado to sit flat without tipping).

Spoon out a very small amount of the avocado flesh (to make a little more room for the egg).

Crack one egg into each half (don't worry if a little spills out).

Top with a little sprinkling of salt, pepper, and grated parmesan.

Bake at 425• for 20 minutes. Feel free to adjust cooking time depending on how well done you like your egg.

Serve with Siracha and a side of toast.