This Instant Pot Creamy Chicken soup is definitely our new favorite soup! It's thick, creamy, hearty, and delicious! And, not only is it quick to make in the Instant Pot, if you prefer, the recipe is easily adaptable for making in a slow cooker or even stovetop. Add some warm crusty bread and a side salad and you'll have dinner on the table in no time at all.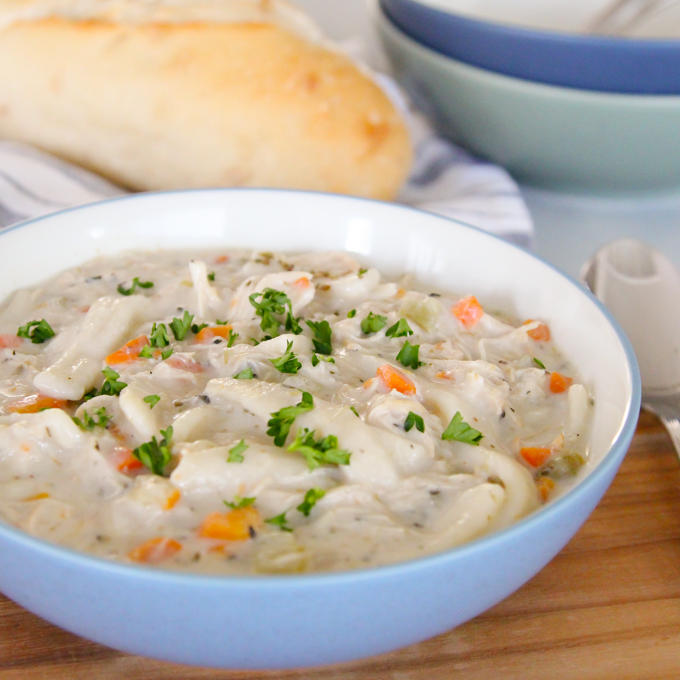 I've been slow to adapt some of my cooking habits with the use of my Instant Pot. I've never felt intimidated by it, I just felt like I didn't want or need another small kitchen appliance (although it's actually quite large). However, I'm loving it for making soup, especially when I need to cook the chicken. This recipe has about a 30 minute cook time, and that doesn't include to coming up to pressure. So, for an Instant Pot recipe, it isn't the quickest.
If it's not the quickest IP recipe, why should I use my IP for this recipe?
It would take at least 2-3 times longer on the stovetop and approx. 8 hours in a slow cooker (on low temp).
Some days, I want need hearty, delicious, and quick, and this soup didn't disappoint! In fact, I made it twice, just to make sure we really loved it before I shared it.
Look how simple the ingredients are….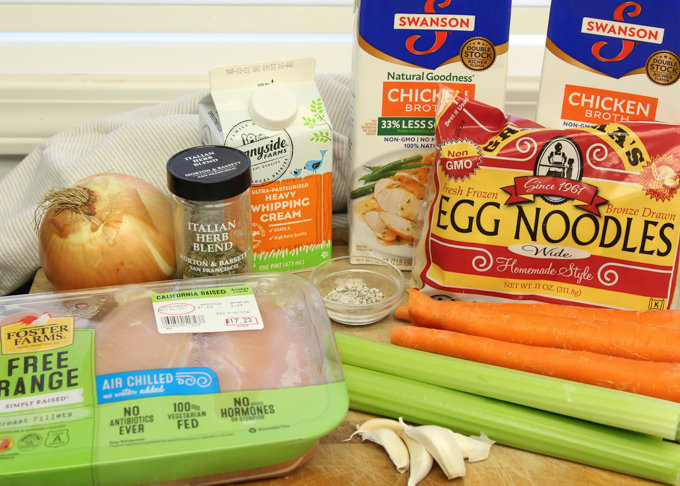 Aren't there a lot of calories in heavy cream?
For those of you that are concerned about too many calories in a cream soup, you can easily substitute half or all of the heavy cream with half & half or whole milk. I actually used 1 cup heavy cream and 1 cup 1/2 and half both times I made it. It was still very rich, creamy and delicious. Next time I'll be trying it with cream and milk, which will cut the calories and fat a bit more.
I love the Grandma's Egg Noodles, and find them in the freezer section of Nob Hill. They're a very thick noodle, which I love in a chicken soup, because they hold up well. Any egg noodle can be used in this Instant Pot Creamy Chicken Soup.
The recipe is as simple as:
Cook the chicken, chopped veggies, spices, and chicken broth in the IP.
Remove chicken and shred.
Add in flour/broth mixture to thicken soup.
Stir in cream.
Switch IP settings to saute feature and bring to a boil.
Add chicken and noodles, and cook until noodles are tender.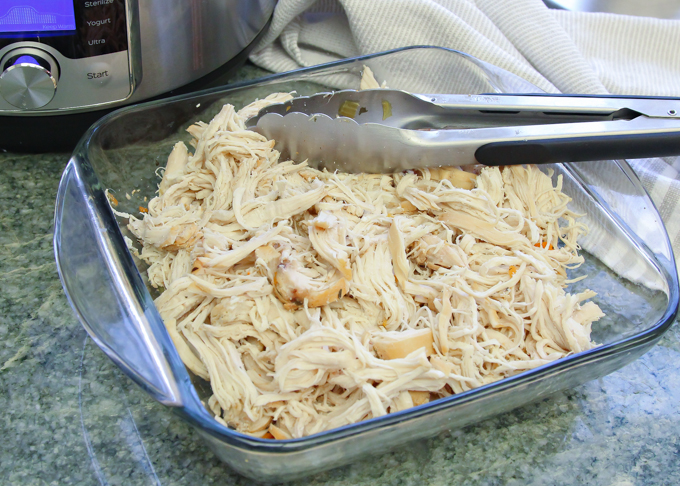 Serve this Creamy Chicken Soup with a crusty loaf of french bread and a simple Green Salad with Balsamic Dijon Dressing or maybe a Caesar Salad.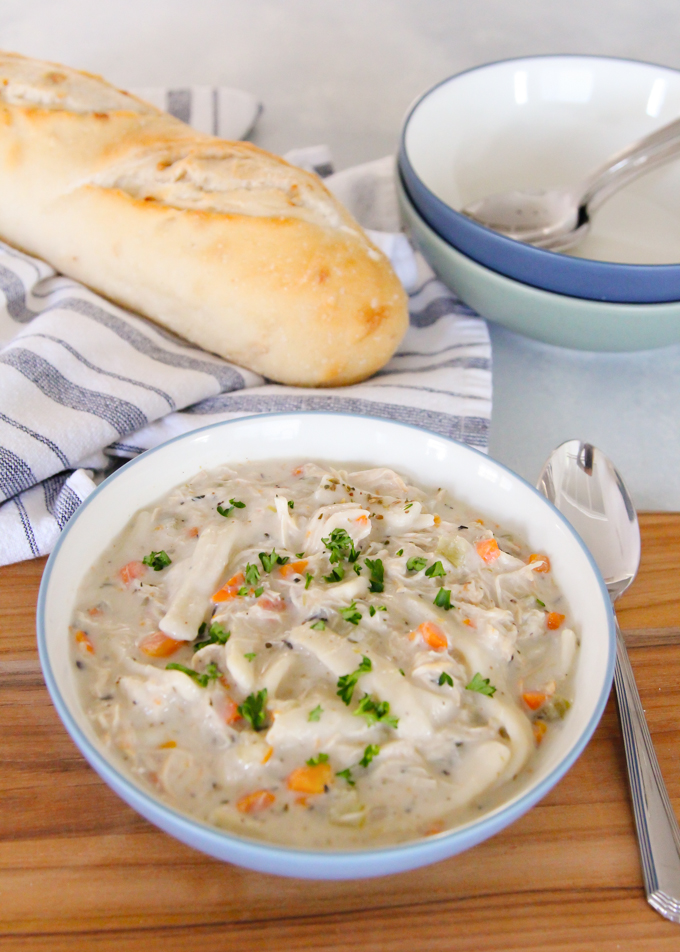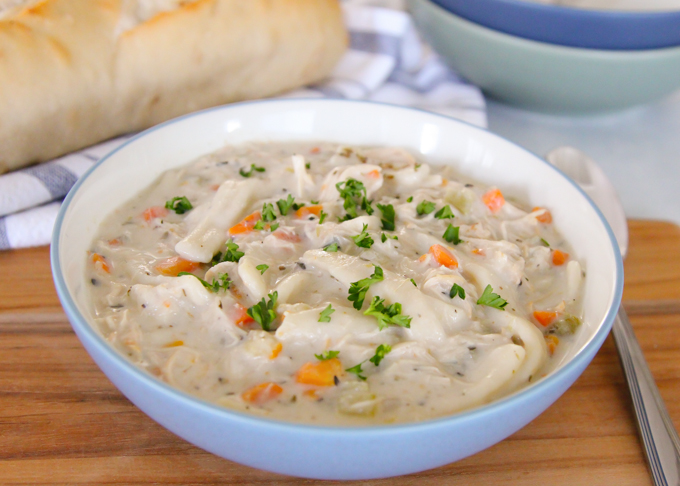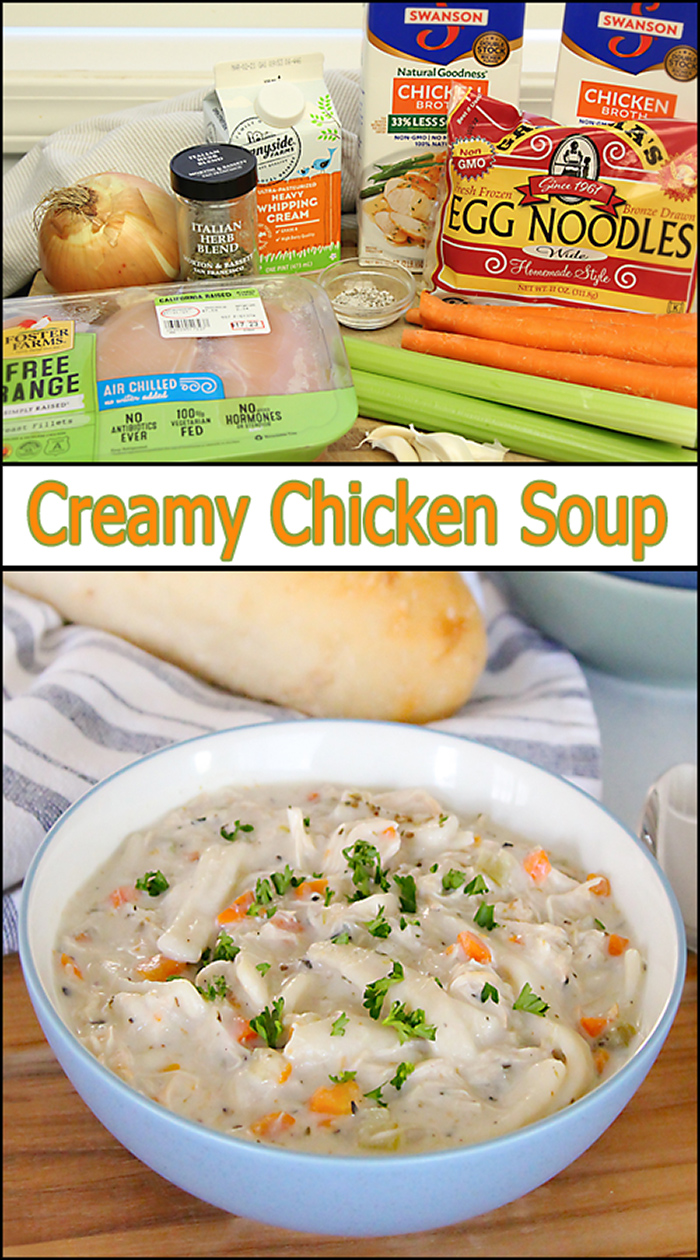 Instant Pot Creamy Chicken Soup
Ingredients
2

pounds

skinless chicken breast

approx. 3 medium size

8

cups

reduced sodium chicken broth

2

tbsp

Italian Seasoning blend

2

tsp

minced garlic

preferably fresh

1/2

large yellow onion (diced) *

*approx 1/2 cup diced

3-4

large carrots (peeled and chopped) *

*approx 1 1/2 cups chopped

4 stalks

celery (chopped) *

*approx 1 1/2 cups chopped

2

cups

heavy cream

or combination of cream, half/half, whole milk

1/2

tsp

salt

1/2

tsp

pepper

12

ounces

egg noodles

*I used homestyle thick egg noodles

1/4-1/3

cup

flour
Instructions
Prep veggies (onion, carrots, celery, and garlic)

Place chicken in Instant Pot. Add chicken broth, garlic, onion, celery, carrot, garlic, italian seasoning, salt, and pepper.

Cover and set to Pressure Cook for 15 minutes. If using frozen chicken, increase cooking time to 25-30 minutes depending on the size of the chicken breasts).

Natural release for 10 minutes, then quick release until pin drops.

Remove chicken and shred (using two forks).

Change IP setting to saute and bring broth to a boil.

In measuring cup, whisk flour into 1 cup water. Once broth is boiling slowly add in flour/water mixture to IP. Stir regularly until soup begins to thicken.

Once soup has thickened, add noodles and cook until noodles are just about tender (according to noodle package directions). Stir continually so the noodles don't stick to the bottom of the pot.

Add chicken and slowly stir in the cream. Bring back to a slow boil.

Serve and enjoy! Optional, top with fresh chopped parsley or parmesan cheese.
Slow Cooker Instructions
Add chicken, chicken broth, veggies and seasons to slow cooker.

Cover and cook on high for 2-3 hours (low 6-8 hours). Cook until chicken is fully cooked and easy to shred. Cooking time will vary depending on size of chicken breasts.

Remove chicken and shred (using two forks). Set aside.

In measuring cup, whisk flour into 1 cup water. Pour into slow cooker. Cover and cook on high until broth begins to thicken (about 30 minutes).

Add shredded chicken to slow cooker and slowly stir in cream. Cook another 15-20 until soup is thick, and hot.
You might also enjoy my Instant Pot Marinara Tomato Soup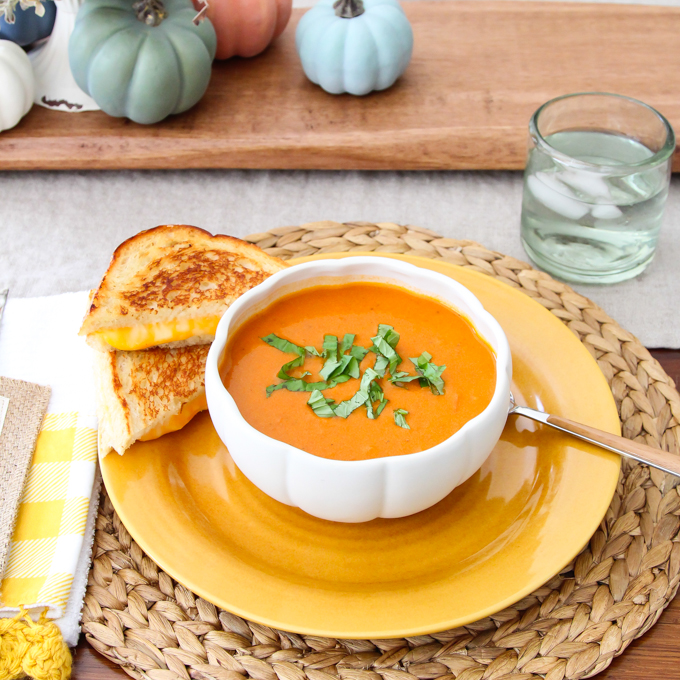 Or my slow cooker Tortilla Soup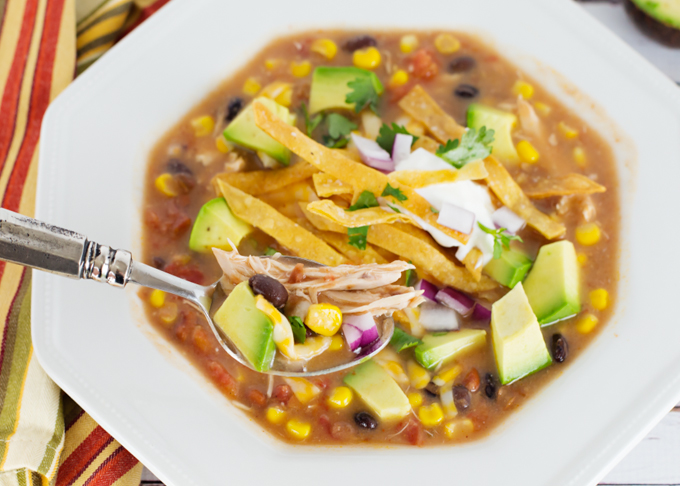 Another fan favorite, is always Hamburger Soup