Spaghetti & Meatballs is a perfect family friendly meal. Baked Spaghetti & Meatballs is cooked in one pan, topped with lots of cheese, and baked until hot, bubbly, and melted ooey gooey! Baked Spaghetti & Meatballs takes regular Spaghetti and Meatballs from ordinary to extra-ordinary!
Are your afternoons busy getting kids to soccer practice or other sport or lesson? This Baked Spaghetti and Meatball dinner is perfect for those busy afternoons. Make the dish early in the day, and when you get home, simply pop it in a hot oven and bake for 30-ish minutes while you're putting together a quick salad. Voila, a hot, satisfying, comfort food meal is on the table.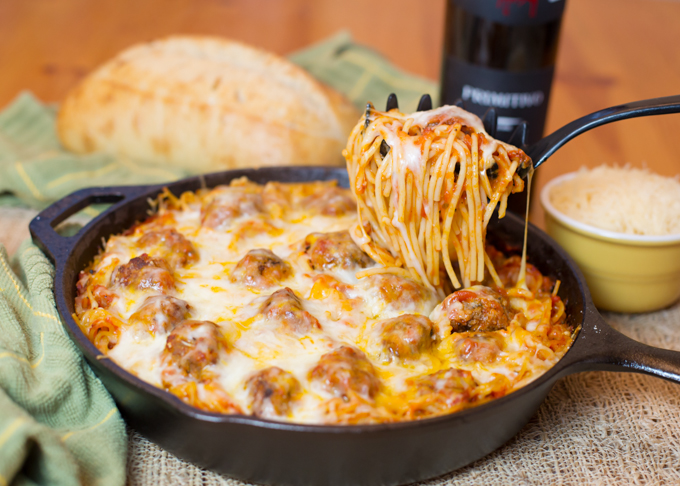 I've been staying in our little home away from home condo for the last few weeks, and have loved every minute of getting to see our oldest daughter and her family every day! But alas, all good things, must come to an end. A couple nights before heading home, our grandson, got to have one more sleepover with Nana and Papa. Since we'd be packing up and leaving in a couple of days, I figured I needed to use of some of the food that I had in the condo. Spaghetti noodles √ Pasta sauce √ Homemade meatballs in the freezer √ Cheese √ It seemed I had the perfect ingredients for this Baked Spaghetti & MeatballsA quick trip to the store for one last quart of milk, a loaf of rustic bread, and a bag salad (I know, I know, but I didn't want leftover produce), and I had everything needed to put a quick and easy dinner on the table that we'd all enjoy!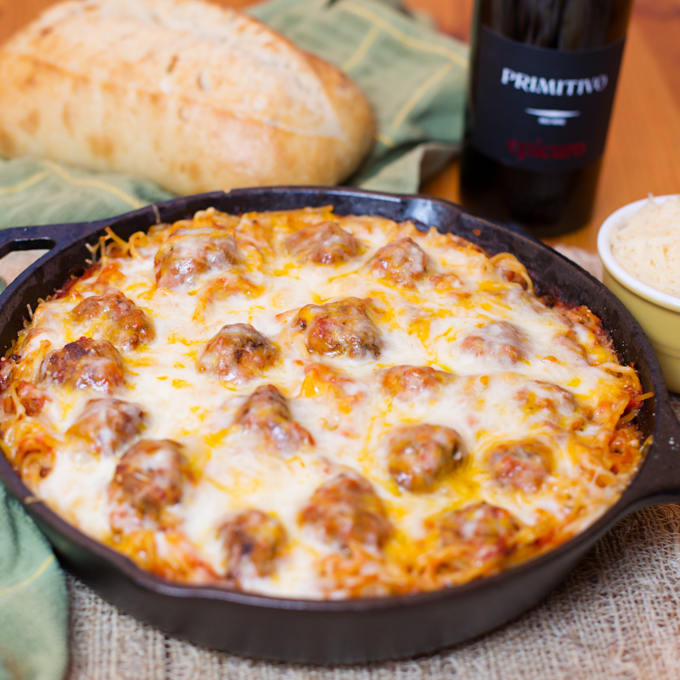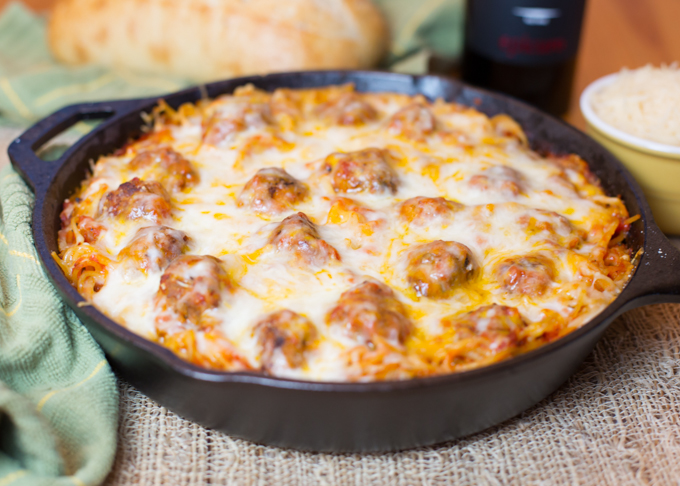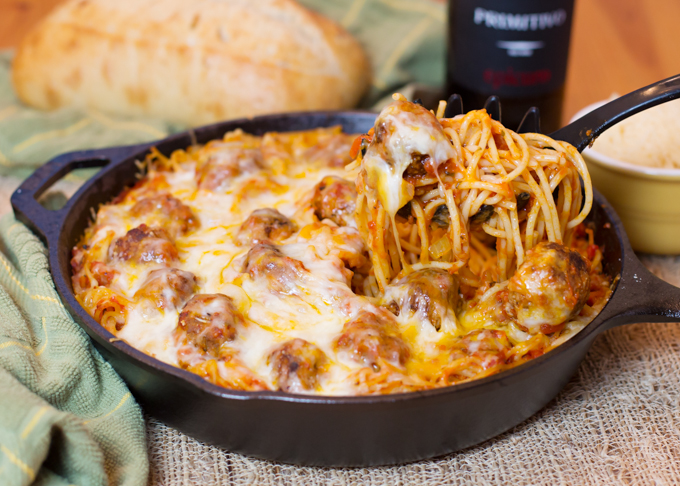 I recommend serving this Baked Spaghetti & Meatballs with Caesar Salad and some rustic french bread.
Please feel free to share this recipe on your FaceBook with all your spaghetti loving friends and don't forget to Pin it!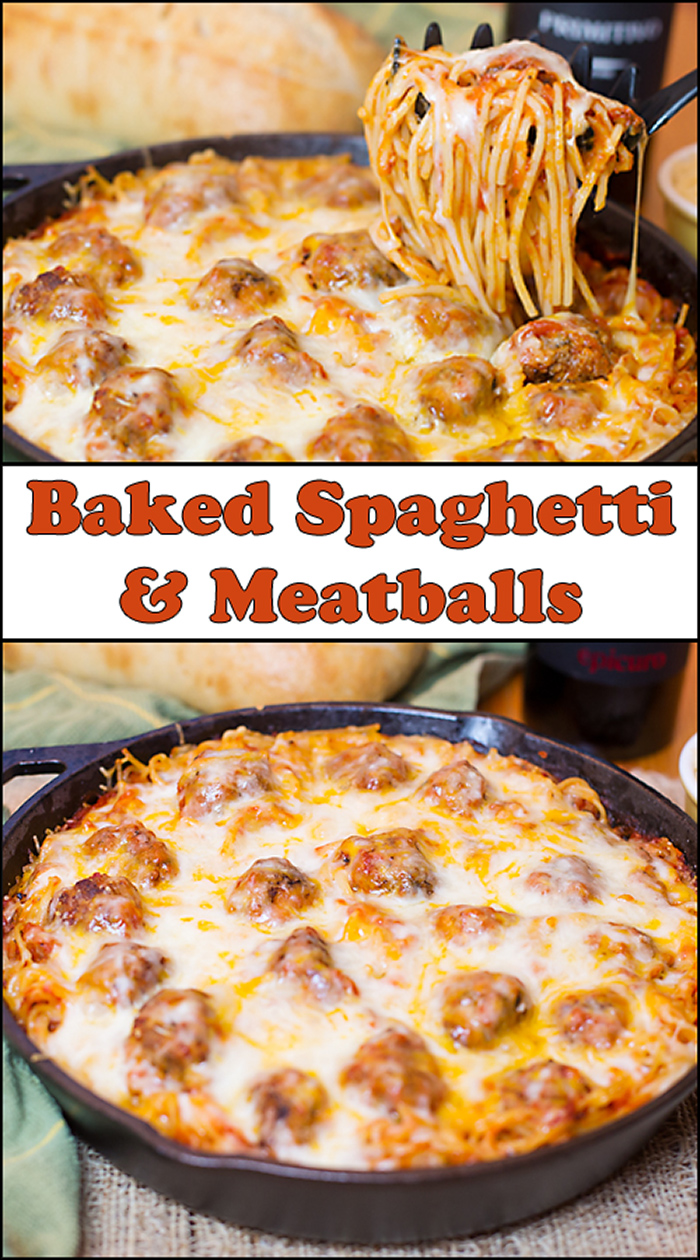 Baked Spaghetti & Meatballs
Ingredients
Meatballs

I used about 1 1/2 doz homemade meatballs **Meatballs were fully cooked

24

oz

jar marinara sauce

I used San Marzano Sauce

1/2

yellow onion

diced

3

cloves

garlic

crushed

1

tsp

Italian seasoning

2

TBSP

olive oil

3/4

# spaghetti noodles

1-2

cups

grated cheese

I used half colby-jack, half mozzarella

1/2

cup

grated parmesan
Instructions
In large cast iron skillet, sauté onions in olive oil over med/low heat. Add in garlic and continue sautéing until onions are tender.

Add cooked meatballs.

Add marinara sauce and tsp Italian seasoning.

Heat over med/low heat for about 20-30 minutes.

In separate large pot, cook spaghetti noodles according to package directions (under cook by 2 minutes).

With large slotted spoon, scoop meatballs from sauce and set aside.

Scoop cooked spaghetti (with large slotted spoon) into marinara sauce. Add in about 1/2 cup pasta cooking water. Gently stir until pasta is fully coated with sauce.

Add cooked meatballs to top of spaghetti.

Top with grated cheese & parmesan cheese.

Bake at 350* for approx 20-30 minutes or until hot and bubbly and cheese is melted.
Love comfort food? You'll also want to try these delicious recipes!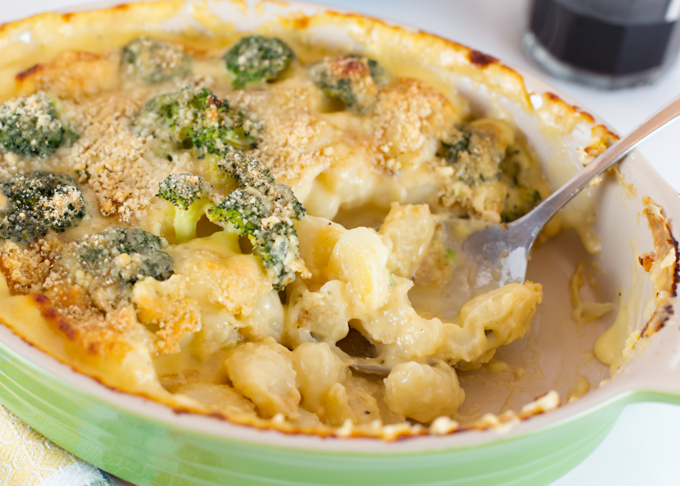 Baked Four Cheese Gnocchi w/Broccoli